CFP Final Poll -- How committee filled last two playoff spots
By Frank Cooney, NFL Draft Scout, The Sports Xcjhange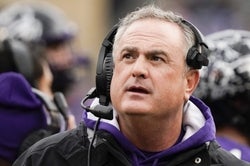 Nov 26, 2022; Fort Worth, Texas, USA; TCU Horned Frogs head coach Sonny Dykes on the sidelines during the first half against the Iowa State Cyclones at Amon G. Carter Stadium. Mandatory Credit: Raymond Carlin III-USA TODAY Sports
We knew which teams would be at No. 1 and No. 2 when the College Football Playoff committee announced participants in this year's semifinals.
Georgia, after dominating LSU in the SEC championship game, stayed at No. 1, where it was parked for four previous weeks. Michigan fought off a feisty Purdue to win its second consecutive Big Ten title and will be seeded second.
But the next two spots were tricky
There were unexpected results on the final weekend. TCU and Southern California were third and fourth before losing their championship games.
It was the first loss for the Horned Frogs, in overtime to No. 10 Kansas State - a team it previously beat. Regardless, the Horned Frogs were rewarded for their unbeaten run through the Big 12 with a No. 3 seed.
USC didn't fare as well. A second loss to Utah cost the Trojans the Pac-12 championship and opened the door for another team.
Enter Ohio State, which didn't play Saturday after losing to Michigan last week but still moved up to that prized No. 4 position.
And there you have it.
Alabama, which was hoping to be elevated into the semifinals after being sixth last week, fell short due to its two losses and lack of quality wins. The Crimson Tide were fifth in the final rankings. Tennessee, another SEC team with two losses, was sixth.
With the seeds set, Georgia and Ohio State were assigned to play in the Peach Bowl. Michigan and TCU will face off in the Fiesta Bowl.
The rest of the New Year's Six matchups were set later in the day.
ACC champion Clemson heads to the Orange Bowl against Tennessee.
Big 12 champion Kansas State will face of with Alabama - the SEC's top-ranked, non-playoff team in the Sugar Bowl.
Pac-12 champion Utah clashes with Big Ten representative Penn State in the Rose Bowl.
Tulane, the highest-ranked champion in the Group of Five, earns the opening in the Cotton Bowl and will be joined by Southern California.
Final College Football Playoff committee Top 25
1. Georgia (13-0)
2. Michigan (13-0)
3. TCU (12-1)
4. Ohio State (11-1)
5. Alabama (10-2)
6. Tennessee (10-2)
7. Clemson (11-2)
8. Utah (10-3)
9. Kansas State (10-3)
10. Southern California (11-2)
11. Penn State (10-2)
12. Washington (10-2)
13. Florida State (9-3)
14. Oregon State (9-3)
15. Oregon (9-3)
16. Tulane (11-2)
17. LSU (9-4)
18. UCLA (9-3)
19. South Carolina (8-4)
20. Texas (8-4)
21. Notre Dame (8-4)
22. Mississippi State (8-4)
23. North Carolina State (8-4)
24. Troy (11-2)
25. Texas San-Antonio (11-2)
---
Other Recent Stories
Top DT Jalen Hurts pleas no contest, limits legal exposure
Jalen Carter, NFLDraftScout.com's top-rated defensive tackle in the 2023 draft, pleaded no contest Thursday to misdemeanor charges of reckless driving and racing, ...
read the full story
NFL Declares Official free agent, franchise and transition players
The National Football League today (March 15)announced which players are free agents who now can negotiate with all 32 clubs.   Players are either "restricted" ...
read the full story
NFLDraftScout.com Post Combine Top 350 By Position
NFLDraftScout.com top 350 by position, after Indianapolis Combine In our ratings we include all available, verified data from the combine. In the case of the 40-yard ...
read the full story
NFLDraftScout.com Post Combine 350: A change at top for first time
After seeing this year's prospects up close during the Indianapolis Combine, we at NFLDraftScout.com made a few changes to the top 350, starting at the very top. ...
read the full story
Pro Day Tracker
Tracking Pro Days by school by date Top350 (Pos Rnk) Player, College, Pos, Ht, Wt, Class, Proj. Rd,C40ET, e40Time, C10ET, CVJ, CBJ, CBench, ProDayDate 172 (13) ...
read the full story
Latest Player Notes
Ohio State Jack Sawyer
Mar 07, 2023: Where is Jack Sawyer? The former five-star recruit never really took that Year 2 jump some may have anticipated. His raw ... read full note
Colorado Cormani McClain
Mar 07, 2023: Getting two of the best young cornerbacks in the country to come to Boulder was the first step. Now, the Colorado coaches ... read full note
Boise State Ashton Jeanty
Mar 07, 2023: Boise State running back Ashton Jeanty posted a career-high 178 rushing yards in the Broncos' 35-32 win over North Texas ... read full note
LSU Jacobian Guillory
Mar 07, 2023: After joining the defensive line rotation as a redshirt freshman, Jacobian Guillory stayed there last year. He started twice, ... read full note
Clemson Peter Woods
Mar 07, 2023: Monday marked freshman defensive lineman Peter Woods' first career practice as a Tiger. He's easily the most-hyped recruit ... read full note
Brigham Young Kody Epps
Mar 08, 2023: BYU wide receiver Kody Epps isn't your typical sophomore. Thanks to things like the pandemic and a redshirt year, he is already ... read full note
LSU Sage Ryan
Mar 08, 2023: Injuries limited Sage Ryan to four games with two starts as a freshman. Then last year, he became a rotational player who ... read full note
Florida Jason Marshall Jr.
Mar 08, 2023: Florida junior cornerback Jason Marshall Jr. wants to become a more vocal leader on the defense this spring. "There's young ... read full note
Miami Zion Nelson
Mar 08, 2023: Jalen Rivers, who has played mostly guard at UM, again lined up as the first-team left tackle, while Chris Washington was ... read full note
Cincinnati Dee Wiggins
Mar 08, 2023: Louisville transfer Dee Wiggins, a 6-foot-3, 195-pound wide receiver, found several balls Monday. Then again, after transferring ... read full note