Lott IMPACT Trophy goes to Bama's Will Anderson Jr.
By Trent Rush, Media Relations, The Lott IMPACT® Trophy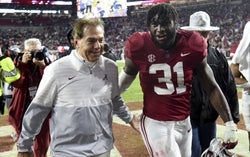 Nov 26, 2022; Tuscaloosa, Alabama, USA; Alabama Crimson Tide head coach Nick Saban and linebacker Will Anderson Jr. (31) share a smile as they leave the field after defeating the Auburn Tigers at Bryant-Denny Stadium. Alabama won 49-27. Mandatory Credit: Gary Cosby Jr.-USA TODAY Sports
NEWPORT BEACH, CA. – Alabama's Will Anderson Jr. has been named the winner of the 19th Annual Lott IMPACT® Trophy.
The announcement came Sunday night at the Pacific Club in Newport Beach, CA, at the Lott IMPACT® Trophy Annual Award Show from Ronnie Lott.
The award goes to the defensive player who has made the biggest IMPACT on his team. IMPACT stands for Integrity, Maturity, Performance, Academics, Community and Tenacity.
Anderson led the SEC in tackles for a loss and was also named SEC defensive player of the year for the second straight season. Anderson also projects as a consensus top five pick in the upcoming NFL draft. Ranked No. 5 In the country, Alabama will play Kansas State in the Sugar Bowl Dec. 31 in New Orleans.
The Pacific Club IMPACT Foundation will present a $25,000 check to the general scholarship fund at Alabama in recognition of Anderson's achievement. Runners up were Felix Anudike-Uzomah of Kansas State, Tommy Eichenberg of Ohio State, and Tuli Tuipulotu of USC. Each of those schools will receive $5,000 for their school's scholarship fund.
Also, the Pacific Club IMPACT® Foundation announced that next year's 20th Lott IMPACT® Trophy award will be presented at the Air Force Academy in Colorado Springs, CO.
Previous Winners of the Lott IMPACT® Trophy
2004 – David Pollack, Georgia
2005 – DeMeco Ryans, Alabama
2006 – Dante Hughes, Cal
2007 – Glenn Dorsey, LSU
2008 – James Laurinaitis, Ohio State
2009 – Jerry Hughes, TCU
2010 – J.J. Watt, Wisconsin
2011 – Luke Kuechly, Boston College
2012 – Manti Te'o, Notre Dame
2013 – Anthony Barr, UCLA
2014 – Eric Kendricks, UCLA
2015 – Carl Nassib, Penn State
2016 – Jabrill Peppers, Michigan
2017 – Josey Jewell, Iowa
2018 – Josh Allen, Kentucky
2019 – Derek Brown, Auburn
2020 – Paddy Fisher, Northwestern
2021 – Aidan Hutchinson, Michigan
2022 – Will Anderson Jr., Alabama
About the Lott IMPACT Trophy:
Named after Pro Football Hall of Fame member, Ronnie Lott, The Lott IMPACT® Trophy is awarded to college football's Defensive IMPACT Player of the Year. Founded in 2004 by The Pacific Club IMPACT® Foundation, The Lott Trophy is the first and only college football award to recognize both athletic performance and the personal character attributes of the player.
The Lott IMPACT® Trophy is given to the player who exhibits the same characteristics Lott embodied during his distinguished career: Integrity, Maturity, Performance, Academics, Community and Tenacity. Voters for the award include selected members of the national media, previous finalists, the Board of Directors of the Pacific Club IMPACT® Foundation and a distinguished group of former college football head coaches.
To date, the Foundation has donated more than $1.6 million to various charities throughout the country.
---
Other Recent Stories
Top DT Jalen Hurts pleas no contest, limits legal exposure
Jalen Carter, NFLDraftScout.com's top-rated defensive tackle in the 2023 draft, pleaded no contest Thursday to misdemeanor charges of reckless driving and racing, ...
read the full story
NFL Declares Official free agent, franchise and transition players
The National Football League today (March 15)announced which players are free agents who now can negotiate with all 32 clubs.   Players are either "restricted" ...
read the full story
NFLDraftScout.com Post Combine Top 350 By Position
NFLDraftScout.com top 350 by position, after Indianapolis Combine In our ratings we include all available, verified data from the combine. In the case of the 40-yard ...
read the full story
NFLDraftScout.com Post Combine 350: A change at top for first time
After seeing this year's prospects up close during the Indianapolis Combine, we at NFLDraftScout.com made a few changes to the top 350, starting at the very top. ...
read the full story
Pro Day Tracker
Tracking Pro Days by school by date Top350 (Pos Rnk) Player, College, Pos, Ht, Wt, Class, Proj. Rd,C40ET, e40Time, C10ET, CVJ, CBJ, CBench, ProDayDate 172 (13) ...
read the full story
Latest Player Notes
Ohio State Jack Sawyer
Mar 07, 2023: Where is Jack Sawyer? The former five-star recruit never really took that Year 2 jump some may have anticipated. His raw ... read full note
Colorado Cormani McClain
Mar 07, 2023: Getting two of the best young cornerbacks in the country to come to Boulder was the first step. Now, the Colorado coaches ... read full note
Boise State Ashton Jeanty
Mar 07, 2023: Boise State running back Ashton Jeanty posted a career-high 178 rushing yards in the Broncos' 35-32 win over North Texas ... read full note
LSU Jacobian Guillory
Mar 07, 2023: After joining the defensive line rotation as a redshirt freshman, Jacobian Guillory stayed there last year. He started twice, ... read full note
Clemson Peter Woods
Mar 07, 2023: Monday marked freshman defensive lineman Peter Woods' first career practice as a Tiger. He's easily the most-hyped recruit ... read full note
Brigham Young Kody Epps
Mar 08, 2023: BYU wide receiver Kody Epps isn't your typical sophomore. Thanks to things like the pandemic and a redshirt year, he is already ... read full note
LSU Sage Ryan
Mar 08, 2023: Injuries limited Sage Ryan to four games with two starts as a freshman. Then last year, he became a rotational player who ... read full note
Florida Jason Marshall Jr.
Mar 08, 2023: Florida junior cornerback Jason Marshall Jr. wants to become a more vocal leader on the defense this spring. "There's young ... read full note
Miami Zion Nelson
Mar 08, 2023: Jalen Rivers, who has played mostly guard at UM, again lined up as the first-team left tackle, while Chris Washington was ... read full note
Cincinnati Dee Wiggins
Mar 08, 2023: Louisville transfer Dee Wiggins, a 6-foot-3, 195-pound wide receiver, found several balls Monday. Then again, after transferring ... read full note