Monday is money day: Portal will open Wild, Wild West shootout
By Frank Cooney with inspired insight from Mike Bianchi, Orlando Sentinel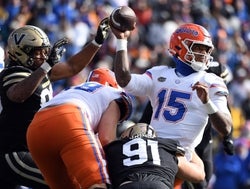 Nov 19, 2022; Nashville, Tennessee, USA; Florida Gators quarterback Anthony Richardson (15) throws an interception as he is pressured by Vanderbilt Commodores defensive end Darren Agu (92) and defensive lineman Christian James (91) during the second half at FirstBank Stadium. Mandatory Credit: Christopher Hanewinckel-USA TODAY Sports
Mike Bianchi of the Orlando Sentinal has hit upon something we at NFL Draft Scout have discussed in house often.
He postulates that players with college eligibility may not be rushed to jump into the NFL as in past years. Except for those drafted very high, another year in college may be more profitable.
He notes we have not heard a lot of talk about several outstanding players leaving for the NFL - yet. He says, "Understandably, there is a lot of talk about Anthony Richardson leaving the University of Florida for the big money of the NFL Draft, but why isn't anybody talking about Richardson, Florida State quarterback Jordan Travis, Heisman Trophy frontrunner Caleb Williams of USC and every other marquee college football player leaving for the big money in the transfer portal?
He points out that with the postseason portal opening on Monday, why wouldn't every established and coveted college football player in the nation at least put his name in it, test the waters and try to get the best free-agent, er, NIL deal possible?
Yep. Show me the money.
Bianchi goes on. . . "If coaches can parlay great seasons (or even average seasons) into lucrative contract extensions, why shouldn't players be able to capitalize on their success? If the Gators want to keep Richardson, let them ante up and match an offer he might get from Alabama or Georgia. If the Seminoles want to keep Travis, let them dig deep and match an offer he might get from Clemson or Texas.
If some of the NIL numbers being tossed around are true, college stars who aren't surefire first-round draft picks might make more money by staying in school than by going to the NFL.
"And if you're a star player or even a quality starter at a good college program, there's really no risk if you decide to enter the portal. What's the worst that could happen if, say, Travis enters the portal and doesn't get a better deal than what he already has at FSU? Then he just pulls his name out of the portal and stays in Tallahassee, right? No harm. No foul."
Brace yourself college football fans. Bianchi advises, adding. . .
It used to be National Signing Day was the most exciting time of the college football offseason, but just wait until the portal opens on Monday.
The wild, wild West is about to turn into California gold rush.
Yep, we also believe the college-to-pro scenario may undergo a major change that will focus on the obvious -- follow the money.
---
Other Recent Stories
Top DT Jalen Hurts pleas no contest, limits legal exposure
Jalen Carter, NFLDraftScout.com's top-rated defensive tackle in the 2023 draft, pleaded no contest Thursday to misdemeanor charges of reckless driving and racing, ...
read the full story
NFL Declares Official free agent, franchise and transition players
The National Football League today (March 15)announced which players are free agents who now can negotiate with all 32 clubs.   Players are either "restricted" ...
read the full story
NFLDraftScout.com Post Combine Top 350 By Position
NFLDraftScout.com top 350 by position, after Indianapolis Combine In our ratings we include all available, verified data from the combine. In the case of the 40-yard ...
read the full story
NFLDraftScout.com Post Combine 350: A change at top for first time
After seeing this year's prospects up close during the Indianapolis Combine, we at NFLDraftScout.com made a few changes to the top 350, starting at the very top. ...
read the full story
Pro Day Tracker
Tracking Pro Days by school by date Top350 (Pos Rnk) Player, College, Pos, Ht, Wt, Class, Proj. Rd,C40ET, e40Time, C10ET, CVJ, CBJ, CBench, ProDayDate 172 (13) ...
read the full story
Latest Player Notes
Ohio State Jack Sawyer
Mar 07, 2023: Where is Jack Sawyer? The former five-star recruit never really took that Year 2 jump some may have anticipated. His raw ... read full note
Colorado Cormani McClain
Mar 07, 2023: Getting two of the best young cornerbacks in the country to come to Boulder was the first step. Now, the Colorado coaches ... read full note
Boise State Ashton Jeanty
Mar 07, 2023: Boise State running back Ashton Jeanty posted a career-high 178 rushing yards in the Broncos' 35-32 win over North Texas ... read full note
LSU Jacobian Guillory
Mar 07, 2023: After joining the defensive line rotation as a redshirt freshman, Jacobian Guillory stayed there last year. He started twice, ... read full note
Clemson Peter Woods
Mar 07, 2023: Monday marked freshman defensive lineman Peter Woods' first career practice as a Tiger. He's easily the most-hyped recruit ... read full note
Brigham Young Kody Epps
Mar 08, 2023: BYU wide receiver Kody Epps isn't your typical sophomore. Thanks to things like the pandemic and a redshirt year, he is already ... read full note
LSU Sage Ryan
Mar 08, 2023: Injuries limited Sage Ryan to four games with two starts as a freshman. Then last year, he became a rotational player who ... read full note
Florida Jason Marshall Jr.
Mar 08, 2023: Florida junior cornerback Jason Marshall Jr. wants to become a more vocal leader on the defense this spring. "There's young ... read full note
Miami Zion Nelson
Mar 08, 2023: Jalen Rivers, who has played mostly guard at UM, again lined up as the first-team left tackle, while Chris Washington was ... read full note
Cincinnati Dee Wiggins
Mar 08, 2023: Louisville transfer Dee Wiggins, a 6-foot-3, 195-pound wide receiver, found several balls Monday. Then again, after transferring ... read full note