Will the real Jim Harbaugh please stand up?
By Frank Cooney, The Sports Xchange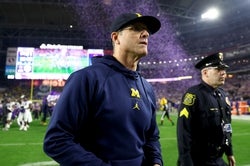 Dec 31, 2022; Glendale, Arizona, USA; Michigan Wolverines head coach Jim Harbaugh leaves the field after the TCU Horned Frogs defeated the Michigan Wolverines in the 2022 Fiesta Bowl at State Farm Stadium. Mandatory Credit: Mark J. Rebilas-USA TODAY Sports
Update: Jan 13 -- Harbaugh is in discussions for a new, long-term contract with Michigan.
As a football coach, Michigan's Jim Harbaugh is as subtle as a punch in the mouth. That's not counting the failed Philly Special type trick play he conjured up on fourth and goal from the two that set the stage for the Wolverine's loss to TCU in their semifinal playoff game.
There he was with perhaps the best offensive line over the last two years in college football and he pulls the kind of play to which an underdog might resort against superior talent.
Weird, right?
Turns out, Harbaugh often isn't what he appears to be, or says he is. Only days ago he issued this statement through the school:
"As I stated in December, while no one knows what the future holds, I expect that I will be enthusiastically coaching Michigan in 2023. I have spoken with president Santa Ono and athletic director Warde Manuel and appreciate their support of me and our program. Our mission as Wolverines continues, and we are preparing for the 2023 season with great passion and enthusiasm. As our legendary coach Bo Schembechler said … those who stay will be champions."
Yea, but. . .
Now there is word that he will interview with the Denver Broncos early this week as their coaching search to replace Nathaniel Hackett continues. That is according to a report Sunday by NFL Network's Tom Pelissero.
Harbaugh just led the Wolverines, his alma mater, to their second straight berth in the College Football Playoff, but ESPN's Pete Thamel and others have reported that the former San Francisco 49ers coach would be brought up as a candidate for NFL jobs this offseason.
Last year he seemed intent on getting a job with the Minnesota Vikings, but was left in the lurch when they signed somebody else.
And now. . .
"The Broncos plan to interview Jim Harbaugh for their head coaching job early this week, per sources," Pelissero wrote on Twitter. "Denver's new owners want to swing big, and landing Harbaugh – the former 49ers and current University of Michigan coach – would be about as big as it gets."
The Indianapolis Colts and Carolina Panthers are other NFL teams with opening at head coach that have been reported or rumored to have interest in Harbaugh. Harbaugh and Carolina Panthers owner David Tepper spoke about the team's vacancy left by the firing of Matt Rhule, according to reports by Fox Charlotte's Will Kunkel and The Athletic's Joe Person.
CBS Sports' Jonathan Jones reported Sunday that the Panthers plan to focus their search elsewhere, and Harbaugh's side initiated the call.
It may be no coincidence that Harbaugh is sending out feelers. His Michigan program is under NCAA investigation and received a Notice of Allegations last week. The alleged recruiting violations are considered minor, but there is an accusation that Harbaugh misled the NCAA.
The Wolverines emerged as a national power in 2021 by winning the Big Ten and making the CFP for the first time. But Michigan lost CFP semifinal games to Georgia and TCU each of the last two seasons, failing to make the national championship game.
On ESPN's College Game Day recently, Harbaugh's strange actions were highlighted.
Said Pete Thamel :"One year after interviewing for and failing to get the Minnesota Vikings job, Jim Harbaugh said his annual dance with the NFL had ended — quote, 'This will not be a recurring theme.' He said last year, 'This was a one-time thing,'" Thamel said. "Well, Rece, we'll find out the next two weeks whether that's the reality. Harbaugh won nearly 70% of his NFL games in San Francisco. He's No. 6 all-time, in NFL history, by win percentage. Combine that with going 25-3 the last two years at Michigan and Jim Harbaugh has never been hotter in NFL circles.
Well, at least luke warm, considering the Vikings rejected him last year and the Panthers followed suit recently. And it is not clear that Harbaugh is the first choice of the Broncos, who already talked to Sean Payton, whose rights are still held by the New Orleans Saints, who apparently allowed the meeting after penciling out compensation, if needed.
There is history that Harbaugh can be successful in the NFL. With the 49ers, he nearly won a Super Bowl before the lights went out in No. XLVII in a loss to his brother John, head coach of the Baltimore Ravens.
The 49ers front office was a bit of a mess and Harbaugh departed the organization after the 2013. Interestingly, despite his success there it was hard to find players who seemed upset about his departure.
But the former Wolverine quarterback quickly landed at his alma mater and once again built up a winning franchise.
What's next? Not even Harbaugh knows.
We remember him well as a college coach in San Diego and Stanford and then with the 49ers. He proved he is an outstanding coach, but had a distant, condescending relationship with the media. OK, that's not unique, but his demeanor didn't seem to create warm and fuzzy relationships with the front office or even many players.
I had talks with the great John Madden at the time and said Harbaugh's days with the 49ers were numbered. Madden responded by saying "But he is a great coach."
True enough. But it continues to be obvious that he has other traits that offset his greatest strength. Moving back to the NFL will exacerbate the situation. In college, players rotate through every three years or so. In the NFL, teams and players want a longer relationship with their head coach.
Our advice: Try to overcome the investigations and stay with Michigan, Jim. If that doesn't work, go rebuild another college program.
---
Other Recent Stories
Top DT Jalen Hurts pleas no contest, limits legal exposure
Jalen Carter, NFLDraftScout.com's top-rated defensive tackle in the 2023 draft, pleaded no contest Thursday to misdemeanor charges of reckless driving and racing, ...
read the full story
NFL Declares Official free agent, franchise and transition players
The National Football League today (March 15)announced which players are free agents who now can negotiate with all 32 clubs.   Players are either "restricted" ...
read the full story
NFLDraftScout.com Post Combine Top 350 By Position
NFLDraftScout.com top 350 by position, after Indianapolis Combine In our ratings we include all available, verified data from the combine. In the case of the 40-yard ...
read the full story
NFLDraftScout.com Post Combine 350: A change at top for first time
After seeing this year's prospects up close during the Indianapolis Combine, we at NFLDraftScout.com made a few changes to the top 350, starting at the very top. ...
read the full story
Pro Day Tracker
Tracking Pro Days by school by date Top350 (Pos Rnk) Player, College, Pos, Ht, Wt, Class, Proj. Rd,C40ET, e40Time, C10ET, CVJ, CBJ, CBench, ProDayDate 172 (13) ...
read the full story
Latest Player Notes
Ohio State Jack Sawyer
Mar 07, 2023: Where is Jack Sawyer? The former five-star recruit never really took that Year 2 jump some may have anticipated. His raw ... read full note
Colorado Cormani McClain
Mar 07, 2023: Getting two of the best young cornerbacks in the country to come to Boulder was the first step. Now, the Colorado coaches ... read full note
Boise State Ashton Jeanty
Mar 07, 2023: Boise State running back Ashton Jeanty posted a career-high 178 rushing yards in the Broncos' 35-32 win over North Texas ... read full note
LSU Jacobian Guillory
Mar 07, 2023: After joining the defensive line rotation as a redshirt freshman, Jacobian Guillory stayed there last year. He started twice, ... read full note
Clemson Peter Woods
Mar 07, 2023: Monday marked freshman defensive lineman Peter Woods' first career practice as a Tiger. He's easily the most-hyped recruit ... read full note
Brigham Young Kody Epps
Mar 08, 2023: BYU wide receiver Kody Epps isn't your typical sophomore. Thanks to things like the pandemic and a redshirt year, he is already ... read full note
LSU Sage Ryan
Mar 08, 2023: Injuries limited Sage Ryan to four games with two starts as a freshman. Then last year, he became a rotational player who ... read full note
Florida Jason Marshall Jr.
Mar 08, 2023: Florida junior cornerback Jason Marshall Jr. wants to become a more vocal leader on the defense this spring. "There's young ... read full note
Miami Zion Nelson
Mar 08, 2023: Jalen Rivers, who has played mostly guard at UM, again lined up as the first-team left tackle, while Chris Washington was ... read full note
Cincinnati Dee Wiggins
Mar 08, 2023: Louisville transfer Dee Wiggins, a 6-foot-3, 195-pound wide receiver, found several balls Monday. Then again, after transferring ... read full note