NFL week 11 Preview: Chiefs Host Eagles; Cowboys, Lions and Dolphins Hope to Avoid Letdowns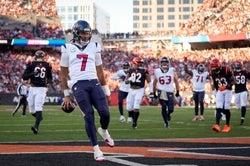 Houston Texans quarterback C.J. Stroud (7) and the Texans host and Arizona Cardinals team looking to play spoiler Sunday.
What can Week 11 possibly do for an encore to the madness and drama of Weeks 9 and 10 of the NFL schedule?
Well, there's the meaty head-to-head between longtime rivals Pittsburgh and Cleveland — the second key AFC North matchup of the weekend, after the Bengals met the Ravens Thursday night.
(Injury update: A bigger loss for the Bengals than its 34-13 loss to Baltimore Thursday night is the news Friday afternoon that star quarterback Joe Burrow is scheduled to undergo season-ending surgery on his right wrist.)
And then there's a raft of potential trap games.
Whether it be the Texans and rookie sensation C.J. Stroud relaxing after their magnificent road win over Cincinnati, or the 49ers falling back into the fatty laziness of their pre-bye losing streak and looking ahead to Seattle, this weekend has more traps than a bakery floor during a stretch of warm weather.
Will the Dolphins, perhaps exposed two weeks ago by Kansas City, drop a much-needed game to a visiting Raiders team catching a whiff of a wild card? Will the Lions and Cowboys get a contact drowsiness from the tryptophan of their Thanksgiving Day matchups and somehow allow the Bears and Panthers, respectively, shots at improbable wins?
Something tells us that the Sunday before Thanksgiving is usually rife with upsets. We are waiting for our research team to confirm that hunch.
Oh yeah...and the two best teams in the NFL, the Chiefs and the Eagles, meet in a Super Bowl rematch. Whatever.
Here is a preview of a pivotal Week 11 in the NFL.
—Week 11 NFL PREVIEW—
TNF Recap: Baltimore 34, Cincinnati 13
On a night where physical mishaps — and rogue drones — seem to threaten at every turn, the Ravens survived injuries to key players, capitalized on a key injury to the Bengals and turned a close game into a convincing win.
For Cincinnati, that one injury likely derailed the 2023 season.
Quarterback Joe Burrow, menaced by a calf issue during the first half of the season, exited midway through the second quarter with an injury to his right wrist, just after putting his team ahead with a touchdown pass.
Burrow's injury apparently happened in the days leading up to the game, as TV cameras caught a brace around his wrist as he stepped off the team bus on Wednesday. Burrow grabbed at his hand on his short TD pass to RB Joe Mixon, then was unable to throw at all on the sideline a few minutes later. At halftime, he was ruled out for the rest of the game.
The Ravens, meanwhile, battled their own injuries. Mark Andrews suffered by a severe ankle injury early in the game after being tackled by Cincinnati's Logan Wilson. Later in the first half the Bengals linebacker landed on Lamar Jackson's ankle along the sideline. The Baltimore QB limped around the rest of night. Ravens fans can be forgiven for thinking Wilson a purple-and-black-seeking drone: Midway through the fourth quarter, WR Odell Beckham Jr., injured his shoulder on a hit by — who else? — Logan Wilson. (In his postgame press conference, Ravens head John Harbaugh did complain about the tackling technique, known as the "hip drop," that Wilson used when bringing both Andrews and Jackson to the turf.)
The latest on Andrews is that an MRI is pending, but concerns are the star tight end suffered a severe ankle injury and is done for the season. No word yet on Beckham, who came into the game with a dinged shoulder, but still recorded team highs with four receptions for 116 yards. His injury occurred at the end of a 51-yard catch and run.
Despite being physically compromised, Jackson threw for 264 yards and two first-half TDs. His first came when a streaking Nelson Agholor plucked a deflected pass out of the air and went 37 yards to paydirt. The Ravens, as expected, leaned on its league-leading running game, rushing for 157 yards against a Bengals front missing starting DE Sam Hubbard.
Good news for Cincinnati is that injured Pro Bowl end Trey Hendrickson did suit up and played well Thursday, recording a sack to give him 9 1/2 on the year.
What was shaping up to be another AFC North battle, Pittsburgh vs. Cincinnati takes a hit with Burrow sidelined for the season. Baltimore has 10 days for Jackson to rest his ankle before taking on the Chargers in Los Angeles on Sunday Night Football.
Pittsburgh (6-3) at Cleveland (6-3), 1:00 p.m. ET
The second big AFC North matchup of the weekend is overshadowed by the news that Browns quarterback Deshaun Watson suffered a shoulder injury in Week 9 and is to have season-ending shoulder surgery. This gut punch means the Browns go back to P.J. Walker — he of the one touchdown pass and five interceptions in three starts.
For both teams, establishing a functional running game may be needed to help an otherwise questionable or inconsistent passing attack.
The Browns running the ball successfully played a huge role in their comeback win over the Ravens in Week 10. Without Watson, it will be even more important for RB Jerome Ford to help out his QB by limiting the number of 3rd-and-longs Walker has to deal with — meaning the number of occasions he has to worry about T.J. Watt teeing off on him.
Pittsburgh is 6-3 but with the 28th-ranked defense and a very inconsistent offense, the record feels almost like a magic track. One reason for optimism is that the offense in the last two weeks started off the games better, scoring TDs on the two opening drives and avoiding the dismal first-half stretches of earlier in the season.
The Browns still field the No. 1 overall defense and league's top pass defense, fronted by Myles Garrett and his NFL-leading 11 sacks. The Steelers, for one of the few times all season, ran the ball very effectively in their Week 10 win over Green Bay. For Pittsburgh to get a win on the road, running backs Najee Harris and Jaylen Warren again need to produce.

Despite Walker's limitations, the Browns are at home and their defense — understanding that the pressure shifts to them with Watson out of the picture — will respond with a big-time effort against a shaky Pittsburgh offense. Cleveland 17, Pittsburgh 9
Dallas (6-3) at Carolina (1-8), 1:00 p.m. ET
Dallas' quarterback-wide receiver combination of Dak Prescott and CeeDee Lamb are breathing biblical fire in leading the Cowboys back into the discussion as the NFC's best team.
They will need to avoid a letdown against the one-win Panthers to stay in that elite circle.
The Cowboys' surge in recent weeks, at least offensively, coincided with Prescott and Cowboys offensive coordinator making a concerted effort to spotlight Lamb in the game plan. Over the last three games, Lamb posted a staggering 34 catches for an even 500 yards. Consider concerted effort and game plan accomplished.
Carolina pulling off the upset of the 2023 season depends on finding some way to protect rookie quarterback Bryce Young from "Marauding" Micah Parsons and the rest of the speedy Dallas front seven. Parsons is playing his best football of the season, collecting two and one-half sacks and 11 combined tackles in the last two games.
The Panthers' OL allowed 32 sacks through nine games, fifth worst in the NFL. Young needs to brace himself for an especially tough beating on Sunday. So do the Panthers. Dallas 45, Carolina 13.
Chicago (3-7) at Detroit (7-2), 1:00 p.m. ET
The Bears "welcome" back Justin Fields from injury in Week 11. The third-year QB was playing his best football at the time of his injury, but that was a low bar to clear given the raggedness of his performances during the Bears' 1-5 start. Tyson Bagent goes to the bench, but if Fields starts turning the ball over, the backup's number may again be called. As Bagent did during his stint as a starter, look for Fields to work the middle of the field with TE Cole Kmet, who caught two early TDs in their loss to the Saints.
Detroit managed a hard-fought road win against the Chargers on a day when their defense was not as stout as in weeks prior. David Montgomery, the punishing back who returned with an impressive performance last week after a three-week absence, should be featured again this week as Detroit will look to be physical against Chicago right from the start. The Bears secondary, still inconsistent and hammered with injuries, will be especially vulnerable to play action if Detroit's running game asserts itself. And Jared Goff is right now as good as any quarterback in the NFL at executing play-action passes.
We like the Lions in this game — and, come next Thursday, we will be thankful that a Thanksgiving game in Detroit features a home team gearing up for deep postseason run. Detroit 31, Chicago 10.
Los Angeles Chargers (4-5) at Green Bay (3-6), 1:00 p.m. ET
Despite a batch of frustrating losses, the Chargers have a great opportunity to even their record against a disappointing Green Bay squad. Chargers' QB Justin Herbert is inconstant at times but comes of a borderline brilliant effort in keeping LA close last week to visiting powerhouse Detroit. Per usual, he will look for his favorite target, WR Keenan Allen, who puts up one stat-flush game after another. Packers corner Jaire Alexander is expected to return after missing last week's game against Pittsburgh with a shoulder injury. Allen against a the corner and the rest of the tough Green Bay pass defense will be a matchup to monitor.
Another will be Green Bay's offensive line against the talented Los Angeles pass rush. The Pack will again have to make due this week — and now the season — without former Pro Bowl tackle David Bahktiari, who will miss the rest of 2023 with a knee injury. For Jordan Love to play well will pretty much depend on Packer tackles containing the dynamic pass-rushing duo of Khalil Mack and Joey Bosa.
One key factor might be which one of these two anemic running games, if either, surfaces on Sunday. If the Chargers' OL springs loose the elusive Austin Ekeler, then LA will be in the driver's seat since its passing attack is so much more productive than the Packers'. Green Bay running back Aaron Jones continues to struggle with injuries — he is questionable for Sunday — and the Pack's running game keeps laboring right along with him.
We like the Chargers to be one of the two LA teams to venture into Lambeau and come away with a win. The Rams failed miserably three weeks ago; the Chargers will not. Los Angeles Chargers 34, Green Bay 19.
Arizona (2-8) at Houston (5-4), 1:00 p.m. ET
For Arizona to pull off its second straight upset, it will need more Kyler Murray magic and another strong day from RB James Conner, who ran for 73 yards in the win over Atlanta. Expect Murray to look for tight end Trey McBride against Houston. McBride overpowered the Falcons' secondary with eight catches and 131 yards receiving.
C.J. Stroud's prodigious rookie campaign shows little sign of waning — he arguably played his best two-week stretch of football in wins over Tampa Bay and Cincinnati. And reinforcements are on the way. Injured star receiver Nico Collins is expected to play after missing the last two games. Rookie wideout Tank Dell emerged in Collins' absence, but not nearly as much as WR Noah Brown, who reeled in 325 yards receiving in the last two wins.
With Stroud afforded a full arsenal of weapons, and with Devin Singletary carrying the running game, the Texans' offense is looking like one of the league's elite units: The Texans last week became the first team since 1998 to boast a 350+-yard passer, a 150+-yard runner and 150+-yard receiver in a win.
Host Houston should take this one, but we suspect Murray and Co. will make it dangerously close. Houston 26, Arizona 23.
Tennessee (3-6) at Jacksonville (6-3), 1:00 p.m. ET
Perhaps a preview of showdowns between two young AFC South franchise quarterbacks. Looking to bounce back from a whuppin' they took at home last week by San Francisco, QB Jacob Lawrence and his Jaguars catch a break in catching a Titans team ebbing from the terrific debut in Week 8 by rookie Will Levis.
Tennessee's No. 1 pick threw 39 passes in last week's loss to Tampa Bay. It will be interesting to see whether Titans head coach Mike Vrabel makes a concerted effort to work Derrick Henry back into the offense. The big RB recorded only 11 carries against the Bucs.
If Jacksonville manages to force Tennessee to rely on Levis and the passing game, then the Jags' opportunistic defense, led by end Josh Allen (nine sacks), will likely force the rookie into turnovers. At the top of the league in takeaways, the Jags failed to force a single turnover against San Francisco. Lawrence's talent and the all-purpose threat of Travis Etienne Jr. notwithstanding, Jacksonville just does not have enough weapons on offense to win without the opposition helping out a bit.
Tennessee is less talented than Jacksonville, so the Jags should win the game even if Tennessee were to play error-free football. But we do not see the Titans doing that. Jacksonville 24, Tennessee 9.
Las Vegas (5-5) at Miami (6-3), 1:00 p.m. ET
Everything on paper screams Dolphins rout, but the Antonio Pierce effect still pulses around a Raiders team that, with an upset win, vaults into contention for a wild-card berth. Meanwhile, Miami's offense returned to the ranks of mortal NFL offense with their 14-point effort in losing to the Chiefs in Frankfurt.
We suspect the bye could very well be the tonic the Dolphins were looking for. The Dolphins still, however, must block Vegas' Maxx Crosby. Easier said than done. The star end has impacted games in 2023 like no other NFL defender this side of Myles Garrett. If Miami successfully nullifies Crosby, it might be a long day for a Raiders defense that allowed a combined 18 points in its last two games.
The Dolphins' offense is a far cry from that of the Giants and the Jets, and it will motivated group having had their lunch money taken from them by a bullying KC defense.
The ideal scenario for a Raiders upset is this: Crosby and the rest of the Raiders' defense, taking a page from the Chiefs, contain the Miami running game, disrupt Tua Tagovailoa's timing and force a couple of turnovers. The Raiders do boast a top-10 pass defense. Then Vegas RB Josh Jacobs takes over — as he did against the Jets — and the offense controls the clock. Probably easier said than done as well.
It seems from this preview we might be leaning towards a Raiders upset. That leap of faith is too big to take. But the Raiders keeping this game close is not far-fetched. It is, however, hard to see quarterback Aidan O'Connell making enough plays for Vegas to leave South Florida above .500. Miami 31, Las Vegas 19.
New York Giants (2-8) at Washington Commanders (4-6), 1:00 p.m. ET
New York beat Washington in the first meeting between these two teams in Week 7, in a game that featured a combined 18 punts. But four weeks can be a long time in the NFL, and the Giants — coming off absolutely miserable road performances in Vegas and Dallas — may now be playing out the string on a season as nightmarish as Giants faithful could imagine.
Look for 19 punts?
Washington missed out on a chance in Seattle to even its record, but it showed a lot of fortitude in sticking with the Seahawks in a tough road environment. Sam Howell is on a bit of a roll, and the will of the Giants' defense may at its lowest ebb after getting strafed in Dallas. After watching what CeeDee Lamb did to the Giants' secondary, Washington WR Terry McLaurin emerged from the film room this week dabbing saliva from the corners of his mouth.
With Tyrod Taylor still out with the rib injury, reserve Tommy DeVito will again start at quarterback for the Giants. To say DeVito was ineffective in Dallas is kind, though playing behind Big Blew — the Giants offensive line blows so many blocks, get it? — against that hellacious Dallas front all but guaranteed a disheartening performance. DeVito stands a better chance of producing this week against a Commanders defense that ranks 29th overall and against the pass.
This is a recovery game for Washington — hopes for a playoff run will still spring temporary if not eternal were the Commanders to enter Thanksgiving at 5-6. The Giants are done for 2023 and winning only injures their chances of getting Caleb Williams. Washington 27, New York 6.
Tampa Bay (4-5) at San Francisco (6-3), 4:05 ET
In a "they are who we thought they are" performance, the 49ers stomped Jacksonville last week to emphatically end a three-game losing streak.
Now, the 49ers return home to Levi's Stadium, where their last game was a troubling loss to the Bengals. Will they again let their guard down and take the Bucs lightly, perhaps looking ahead to their big Turkey Day collision with Seattle? Indications of that might be noticeable early on if Tampa Bay quarterback Baker Mayfield consistently finds time to throw. Poor tackling was another hallmark of the 49ers' skid, so look for that early, as well.
Mayfield experienced an up-and-down first half of the season, but posted a 100+ quarterback rating in his last two games. He throws to a talented tandem in receivers Mike Evans and Chris Godwin, and a Tampa Bay upset Sunday will likely feature big games from at least one of them.
As it did so well in Jacksonville, the 49ers' offense will try to impose a physical authority on the Tampa defense. Quarterback Brock Purdy is at his most efficient and dynamic when a strong running game sets up play-action, especially to the middle of the field where George Kittle and Brandon Aiyuk have been thriving of late. Deebo Samuels scored on a reverse against the Jags but did not do much as a receiver in his return from injury. Expect Kyle Shanahan's game plan against the Bucs to focus on getting the ball more into Samuels' hands. San Francisco 33, Tampa Bay 14.
New York Jets (4-5) at Buffalo (5-5), 4:25 p.m. ET
What had all the makings of a trap game a few weeks ago is no longer the case — the slumping Bills are in no position to be looking past anyone.
Past the midway mark through the season, Buffalo hopes for a new beginning on offense. The team fired offensive coordinator Ken Dorsey this week. While one could blame Dorsey for his game planning, one could also argue that the players make or do not make plays. If you tend to take the latter view, then quarterback Josh Allen needs to shoulder some of the blame for the Bills' recent woes on offense.
True, the Bills' weak running game puts a ton of pressure on Allen. But his carelessness with the ball is now a full-blown issue. It also plays into the Jets' strength. It certainly did in the season opener, a New York win built off two critical interceptions thrown by the Buffalo QB. If Allen does not give the Jets early Xmas gifts, the Bills should be in the driver's seat.
Putting aside Allen for a moment, we predict the game will be decided in the trenches. A cliche, to be sure. But here's the thing — the Bills can not run the ball; the Jets can not stop the run. Whichever one of these constants gives way to aberration Sunday will determine the winner. Buffalo did run the ball well against Denver and a repeat performance Sunday will propel the Bills to victory. Buffalo 24, New York 10.
Seattle (6-3) at Los Angeles Rams (3-6), 4:25 p.m. ET
On the road against a limping division rival with a first-place showdown against San Francisco on Thanksgiving night looming? For Pete Carroll's club, this sounds like a trap game if there ever was one.
The Rams are coming off a bye after two poor road performances in losses to Dallas and Green Bay. They welcome back QB Matthew Stafford, who injured the thumb on his throwing hand against the Cowboys and sat out the loss to the Packers.
Stafford had an up-and-down season until the injury. But when finds a rhythm, he can get as hot as any passer in the league and, in Cooper Kupp and rookie Puka Nacua, Stafford throws to one the league's best pass-catching tandems.
On offense for the Seahawks, the return of D.K. Metcalf a couple of weeks ago bolsters passing game, which goes up a against a Rams secondary being built seemingly from scratch. Geno Smith played error-free football against Washington, but he can be pressured into mistakes. Seattle hopes its 124 yards rushing against the Commanders is a sign of things to come; a solid ground game will assist the offensive line in containing standout defensive tackle Aaron Donald away from its quarterback.
At 3-6 and their playoff hopes all but dimmed, the Rams might come out flat. At 3-6 and their playoff hopes all but dimmed, the Rams might play as if they have nothing to lose, with Stafford slinging the football all over the lot. We think the latter is a good bet. Our upset special: Los Angeles 31, Seattle 27.
Minnesota (6-4) at Denver (4-5), Sunday Night Football, 8:20 p.m. ET, NBC
Another game that five or six weeks ago made NFL schedulers cringe suddenly emerges as maybe the most compelling game of the weekend. Both teams are playing well and come in with playoff aspirations — even Denver, whose early in the month looked dead in the water. The Broncos glide in off a major triumph Monday night in Buffalo, with Russell Wilson's play cresting and the Broncos defense playing some of the best football in the NFL.
The Minnesota storyline over the past few weeks may be the most riveting in football: Five straight wins despite losing a starting QB in the process. This week, the Vikings were hoping to get back WR Justin Jefferson, the team's most dynamic offensive weapon, who's been out since Week 5. But as of Friday, he's considered a "long shot" to play. Endless credit needs to given to Minnesota receiving corps, led by rookie Jordan Addison (603 yards, seven TDs), which embraced the challenge of not merely filling in for Jefferson but thriving despite his absence.
Even more than Addison, tight end T.J. Hockenson et al., the focus of coordinator Van Joseph's Denver defense will be making sure Vikings quarterback Josh Dobbs does not do what he did in his first two games with his new team — kill the Broncos' defense with his legs.
Another key will be on other side of the ball. Javonte Williams and the Broncos' running game factored heavily in the win over Buffalo and will be counted on keeping Wilson out of obvious passing situations. If Denver can not run the football, then look for NFC sack leader Danielle Hunter to do damage for Minnesota.
Both teams are on almost magical runs but Denver at home and a revived Russell Wilson are the deciding factors. Denver 23, Minnesota 20.
Philadelphia (8-1) at Kansas City (7-2), Monday Night Football, 8:15 p.m. ET, ESPN
The perfect finish to the weekend before a short work week. A rematch of last Feb's Super Bowl features two teams whose impressive records are built as on much on championship moxie and grit as dominant play on either side of the ball.
The Eagles' defense withstood an aerial onslaught from CeeDee Lamb, Dak Prescott and the Cowboys and turn around to find Patrick Mahomes and Travis Kelce waiting for them.
But this is not the unstoppable Chiefs offense of years past.
Sure, Kansas City boasts, in terms of yardage, a top-five passing offense, but Mahomes and Co. are middle of the pack in scoring — which means their 2023 red zone offense continues to labor. The Eagles' defense, however, with as deep and talented a defensive front as there is in pro football, ranks near the bottom in stopping opposing offenses in the red zone.
In other words, the KC offense and the Eagles' defense are going to see their subpar red-zone numbers either climb or worsen depending on how they play Monday.
In Week 10, the Chiefs defense held the potent Dolphins attack to just 14 points, and scored a touchdown itself on a spectucular fumble return. This week, Steve Spagnuolo's defense tangles with Jalens Hurts and a physical Philadelphia attack that is as balanced any offense in the league. As it was for Super Bowl LVII, a matchup to keep an eye on will be tackle Lane Johnson and the Eagles' offensive line against defensive end Chris Jones and the stout KC front. Another will be Phillly wideout A.J. Brown, already with 1,005 yards receiving, against Kansas City's secondary, led by cornerback Mike Johnson.
At least the Eagles will not have to worry about LB Nick Bolton, on injued reserve, returning a fumble for a Chiefs score.
Were Kansas City not coming off a bye, we would choose the Eagles. But with an extra week to prepare, Chiefs head coach Reid often produces diabolically creative game plans. Kansas City 29, Philadelphia 26.