NFL Week 9 Preview: Fans Say "Danke Schoen" for Dolphins-Chiefs Matchup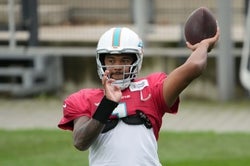 Nov 2, 2023; Frankfurt, Germany; Miami Dolphins quarterback Tua Tagovailoa (1) throws the ball during practice at the PSD Bank Arena. Mandatory Credit: Kirby Lee-USA TODAY Sports
This week in the NFL was a beehive of trade activity and organizational maneuvering. Whether all that buzz produces any honey remains to be seen.
The Raiders fired head coach Josh McDaniels and GM Dave Ziegler, after their reign of error netted Vegas just nine wins in 25 games. Linebacker coach Antonio Pierce elevates to interim head coach, as the Raiders brass again tries to turn over a new leaf on a dying tree.
On the player front, the Redskins traded defensive ends Montez Sweat and Chase Young. Sweat goes to a Bears team out of contention, but Young to the 49ers could very well alter the power structure at the top of the NFC. The former No. 2 overall pick reunites with fellow Ohio State DE Nick Bosa (himself a former No. 2 overall selection) and reinforces a defensive line that boasts four Pro Bowl players and five former first-round picks.
No pressure there, San Francisco defensive coordinator Steve Wilks.
As for this week's slate of games, there are some beauts to look forward to, starting off in Germany where the Miami Dolphins and the Kansas City Chiefs tangle. Will Tua Tagovailoa top Patrick Mahomes? And Mike McDaniel's Dolphins finally put to rest which offense is now the NFL's best?
The up-and-coming Seahawks visit the Ravens. Will Seattle contain Lamar Jackson and maintain its NFC West lead? Is Joe Burrow really back? We will find out as the Bengals host Von Miller and the Buffalo Bills.
Will the Cowboys put together back-to-back excellent outings? Or will the defending NFC champs put their East rival in their place?
The questions come fast and furious. Thankfully, some will be answered by the end of Sunday evening.
— NFL WEEK 9 PREVIEW —
BYES: Broncos, Lions, Jaguars, 49ers.
Thursday Night Football Recap
Pittsburgh 20, Tennessee 16
Kenny Pickett engineered a 11-play, 92-yard drive, hitting WR Diontae Johnson with a two-yard pass with just over four minutes remaining, to win it for Pittsburgh.
Rookie QB Will Levis and the Titans offense had a chance to win it. With the help of two Steelers penalties and a 29-yard Levis pass to Chris Moore, Tennessee made it to the Pittsburgh 19-yard line. But Kwan Alexander intercepted a Levis pass in the end zone with six seconds left to end the game.
For Pickett, it was the seventh game-winning drive of his short but up-and-down career. His performance was a microcosm of that career. He and Steelers passing game finally came out of the gate well, but after a 5-of-7 start, Pickett was off for most of the night — until the game-winning drive, when he hit Johnson with a 32-yard pass to move the ball to the Tennessee 23-yard line. Another key figure on that drive was RB Jaylen Warren, who picked up 38 of his team-high 88 rushing yards.
Will Levis (262 yards passing) justified the excitement triggered by his standout NFL debut against Atlanta. The rookie QB made a number of impressive throws and exhibited poise and toughness in the pocket. WR DeAndre Hopkins, who blistered the Atlanta secondary for three TD catches, went without a catch in the second half against Pittsburgh.
The Steelers (5-4) move to within a game of first-place Baltimore in the AFC North. They host the Packers next week. The Titans are on the road at Tampa Bay.
Miami Dolphins (6-2) at Kansas City Chiefs (6-2), 9:30 a.m. ET, NFL Network
One of a couple of marquee NFL matchups takes place in Frankfurt, Germany. The Dolphins come in with the league's most explosive offense, averaging 33.9 points and 453 yards per game. The Chiefs, long the standard of NFL passing-game excellence, are coming off perhaps their least effective performance on offense since Mahomes took the reins in 2018. Against Denver, it failed to generate a TD drive against the league's worst scoring defense.
Miami's defense is not a world-beater by any stretch but, on paper, figures to give KC a bigger challenge than Denver did.
Whether Andy Reid's offense will rebound is a point of interest, but the prime attraction of this game is the electrifying Miami offense, led by QB Tua Tagovailoa, against a Kansas City pass defense tied for second in the NFL with 28 sacks. Of course, there is a human-interest angle to Tyreek Hill playing against Kansas City but containing the hot receiver (1,014 yards through eight games) will also be a primary goal of his former team's defense.
The winner of this game gets a leg up for homefield advantage in the playoffs. For Tua, besting the defending league MVP will be a feather in his helmet and further validation of his elite status among NFL quarterbacks. Miami 27, Kansas City 23.
Minnesota (4-4) at Atlanta (4-4), 1:00 p.m. ET
A big game for two teams with identical .500 records and new starting quarterbacks. Rookie QB Jaren Hall takes over as Minnesota's QB, replacing Kirk Cousins who tore his Achilles in last week's win over Green Bay. Minnesota is 0-2 in games missed by Cousins since he joined the team in 2018.
Though Hall gets the start, Josh Dobbs, acquired this week in a trade Arizona, may see some action in preparation for taking over the position full time.
Rookie wideout Jordan Addison (seven TD catches) became a favorite target of Cousins in the wake of superstar WR Justin Jefferson's absence. Whether he, K.J. Osborne, and tight end T.J. Hockenson continue to produce as they did recently under Cousins bears watching against an Atlanta defense just scorched by rookie QB Will Levis.
For Atlanta, QB Taylor Heinicke starts in place of Desmond Ridder, who became a turnover machine in recent weeks (seven in his three games). Heinicke played well (one TD pass, 100.3 rating) in relief of Ridder against Tennessee. This week he faces a Minnesota defense — that like the Vikes' offense — is enjoying a midseason resurrection. In the last three games (all wins), defensive coordinator Brian Flores' crew allowed an average of 197 passing yards.
Unlike his counterpart for Minnesota, Heinicke can draw on his experience as a starter in Washington. Also, this is the game that Falcons' offensive coordinator Dave Ragone finally turns loose rookie RB Bijan Robinson. Atlanta 23, Minnesota 17.
Seattle (5-2) at Baltimore (6-2), 1:00 p.m. ET
The Seahawks suddenly find themselves atop the NFC West, with a chance to jump a full game ahead of idle San Francisco. Baltimore is on a roll, and in its last home game, thoroughly destroyed an impressive Lions team.
For Seattle to avoid a similar fate, QB Geno Smith needs to avoid the turnovers on the road that cost his team a win in Cincinnati. He also threw two INTs at home against Cleveland last week, mistakes that were lost after he engineered a last-second, game-winning drive.
Those missteps will not fly against the Ravens defense, which is the No. 2 unit in the NFL against the pass. Expect the Seahawks to counter by leaning on their ground game and running backs Zach Charbonnet and Kenneth Walker.
Baltimore's offense still revolves around QB Lamar Jackson, who is 17-1 against NFC opponents in his career. However, in losing to the Ravens last week, Arizona may have reminded the league of the blueprint for corralling the dual-threat weapon. Cardinal pass rushers did an excellent job maintaining discipline and forcing Jackson to beat them from the pocket. Jackson threw for just 157 yards, so Arizona's strategy worked to some degree.
We anticipate Seattle trying to do the same thing, but the Seahawks' secondary, despite an influx of impressive young talent, is inconsistent and will struggle stopping Pro Bowl tight end Mark Andrews. Jackson, Andrews and the Baltimore D are just too formidable at home. Baltimore 28, Seattle 17.
Arizona (1-7) at Cleveland (4-3), 1:00 p.m. ET
This game is newsworthy by virtue of whether two formerly celebrated and now injured (and suspect) quarterbacks will suit up against each other. Kyler Murray, who has not played since Week 14 of last year when he tore an ACL, may play Sunday — or he may not. As of Thursday, Cardinal coaches removed Murray from the injury report but are keeping a lid on their intentions for Sunday.
If Murray is held out yet another week, and with former starting QB Josh Dobbs now in Minnesota, head coach Jonathan Gannon will name that Tune — Clayton Tune, that is — to make his first career start. Either Murray or Tune need to expect a rude welcome by Myles Garrett (8.5 sacks) and a Cleveland defense rated No. 1 overall and in defending the pass (163 yards per game). Despite those numbers, the Browns' defense did slip the past two games and gave up a game-winning drive last week in the 24-20 loss to Seattle.
Cleveland has been dealing with its own quarterback injury situation in recent weeks. Deshaun Watson returned to practice Thursday but he and the team still remain uncertain about whether his problematic shoulder is ready for him to return to action. P.J. Walker, who boasts a 2-1 record despite a TD-to-INT ratio of 1-to-5, is standing by if Watson again sits.
If Watson does play, the Browns should be fine. If Murray returns for Arizona, we expect rust from the long layoff and Myles Garrett to be major issues. Cleveland 23, Arizona 9.
Los Angeles Rams (3-5) at Green Bay (2-5), 1:00 p.m. ET
Two teams sinking in the standings and in the estimation of their fanbases. In a game critical to their playoff chances the Rams got smacked around on the road by Dallas in Week 8. Green Bay was throttled by Minnesota at home in an equally embarrassing effort.
The Rams still possess one of the league's most-productive passing games, at least from a yardage standpoint. Quarterback Matthew Stafford is eighth in the league, averaging 258 yards passing per game. He throws to one of the NFL's finest tandem of receivers in Cooper Kupp (21 catches, 316 yards in four games) and rookie standout receiver Puka Nacua, who is tied for second in the NFL in catches (61) and is third in yardage.
But, as noted in previous posts, the Rams struggle in the red zone, and this inability to finish drives in the end zone will likely keep the Packers — with the league's eighth-best red-zone defense — in the game.
Except that Green Bay's offense is so inept right now — the Pack can not run the ball and their offensive line has played poorly — that it is hard to see the Packers taking advantage of whatever opportunities Los Angeles hands them. QB Jordan Love is an existential moment, with even Green Bay GM Brian Gatekunst discussing this week how important the next few games are for Love and his future with the organization.
We expect the Rams to play with a greater sense of urgency than they did against Dallas and Stafford to put up some big numbers. Rams 27, Packers 14.
Tampa Bay (3-4) at Houston (3-4), 1:00 p.m. ET
In Week 8, Houston suffered a disappointing loss to previously winless Carolina, damaging their hopes for AFC South contention. Tampa Bay is coming off 10 days rest and two consecutive tough setbacks.
Will one of these teams allow recent disappointments to infect their play Sunday?
Tampa Bay quarterback Baker Mayfield is experiencing the ups and downs of either a career resurrection or the path of a career journeyman. Curiously, Mayfield played well in road games earlier this season, throwing seven TDs and just one interception away from Raymond James Stadium. The Bucs' offensive line is a better unit than what Houston faced against Carolina and might give Mayfield time to exploit the big WR Mike Evans downfield.
Houston's signal-caller C.J. Stroud cooled off a bit recently after playing at a near-historic clip during the first four weeks of the season. Still, Stroud has avoided turnovers, and Sunday he goes up against a defense that, over the last three games, allowed an average QB rating of 107.1 and 299 yards passing per game.
We are going with the home team. Houston 24, Tampa Bay 16
Washington (3-5) at New England (2-6)
Washington played commendable but spent a lot of energy and effort battling division rival Philadelphia last week. The Patriots hung tight for a time with Miami, but the last time they played at home, they beat Buffalo in dramatic fashion.
New England quarterback Mac Jones may be on an upswing. After a woeful start to the season, Jones threw four TDs and one interception in the last two games. However, the Patriots' offense does not field many playmakers, so whether they possess the firepower to exploit a trade-depleted Washington defense is a legitimate question.
Washington QB Sam Howell put up huge numbers (397 yards passing, four TDs) against the Eagles, but tends to follow up productive starts with duds. As do the Patriots, the Commanders struggle to run the ball and, facing a sometimes porous Pats passing defense, Howell should try to feature Terry McLaurin (42 catches), who might be gearing up for a productive stretch.
The Commanders, deflated by trades and the close loss to Philadelphia, is primed for a stinker. Jones' recent play makes us think New England will take advantage of their home environs. New England 22, Washington 17.
Chicago Bears (2-6) at New Orleans (4-4)
The Bears looked overmatched against the Los Angeles Chargers last week, and once again they go on the road to tangle with another team flush with hopes for a playoff berth.
The Saints come off an impressive road win against the Colts, with Derek Carr (19-of-27, 310 yards) enjoying his best day with his new team. RB Alvin Kamara keeps rounding into form for the Saints, and Rashid Shaheed, who leads the NFL in both punt return average and yards per catch, is emerging as a scary big-play weapon. The Bears defense is upgraded with the acquisition of Montez Sweat...just not enough to compensate for one of the league's weakest secondaries.
QB Justin Fields, out with a thumb injury, is listed as "doubtful" and some are speculating that the Bears may be preparing a future without him. For backup QB Tyler Bagent, playing in the Superdome against an active and opportunistic defense (No. 7 in the NFL against the pass) will probably overwhelm any comfort level from having a couple of starts under his belt. Bagent's biggest objective should be targeting WR D.J. Moore, who does not have a TD catch since his monster three-score game against Washington in Week 5.
This is a game New Orleans should win, and win handily. If they do not, and come January are outside the playoffs looking in, they will rue this opportunity squandered. New Orleans 30, Chicago 13.
Indianpolis (3-5) at Carolina (1-6), 4:05 p.m. ET
The Panthers look for their second straight win after rookie QB Bryce Young came through in the clutch last week against Houston. This game points to Young and the Panthers' offense having a productive day, given that the Colts' defense allowed 77 combined points in the last two games, both losses, against mediocre offenses (Cleveland, New Orleans). WR Adam Thielen recorded eight more catches last week and his chemistry with Young will likely be a problem for a Colts' secondary that will likely be without corner Julius Brents.
For the Colts' offense, Gardner Minshew continues to be productive but mistake prone. More turnovers against the Panthers will keep Young and Carolina in it. RB Jonathan Taylor was hot early against New Orleans (82 yards in the first quarter), but the team went away from him, even though the game was tight until the final minutes.
Going out on a limb, but we see Taylor getting more touches and controlling the game, and for Minshew to feed off that strong running game and play his cleanest football of the season. Indianapolis 24, Carolina 16.
New York Giants (2-6) at Las Vegas (3-5), 4:25 p.m. ET
Victims of identity theft and dads who lost their family's savings at a Vegas casino enjoyed a better week than these two teams.
The Giants threw away a sure win and a chance to climb into playoff contention by losing to the Jets in overtime. QB Daniel Jones, returning from a neck injury, joins Justin Fields and Jordan Love as promising young quarterbacks whose stock plummeted in 2023. His future could be determined over the next few weeks, starting Sunday. Fortunately for Jones he now has Sequon Barkley (139 yards rushing vs. the Jets) to hand the ball to. Unfortunately, he must contend Sunday with that Silver and Black bonesaw known as Maxx Crosby (6.5 sacks).
Vegas' interim head coach Antonio Pierce said all the right things this week in taking over for Josh McDaniels. But all the NWA-inspired bluster in the world can not hide the Raiders' deficiencies on offense, primarily at quarterback where Jimmy Garoppolo played himself out of a job in the loss to the Lions. Aidan O'Connell starts in his place. Star receiver Davonte Adams will also start but he may be lost psychologically to the wear and tear of a season that gets more frustrating by the week.
This might be the most difficult game of the weekend to gauge. Still, newly hired interim coaches, especially ex-players who wear their passion on their sleeve, oftentimes rouse a short-term bump in play. If Adams did not give up on the season, we like the Raiders. Las Vegas 20, New York Giants 13.
Dallas (5-2) at Philadelphia (7-1), 4:25 p.m. ET
The game is right there with the Dolphins and Chiefs in terms of must-watch allure. Dallas' Week 8 smashing of the Rams inspired eye-rolling across the NFL — we have all seen this script before: The Cowboys look like a truly destructive force two or three times a season then follow up that performance with a disengaged, poorly executed outing.
Dallas' up-and-down play as a team mirrors that of its quarterback Dak Prescott. If he plays well, so does Dallas. To beat the Eagles, Prescott and OC Brian Schottenheimer need to again maximize WR CeeDee Lamb, who ran roughshod through the Rams' secondary. The Eagles' defense is vastly superior to the Rams, but if they struggle to slow down Washington's Sam Howell, who is to say Dak, Lamb and the Cowboys offense can not put up points?
Jalen Hurts and Philadelphia's offense against the Micah Parsons-led Dallas defense also could be engrossing. Parsons returned to form with a pair of sacks against the Rams, but getting by tackles Jordan Mailata and Lane Johnson and the rest of the Eagles' terrific offensive line is an altogether different matter. Meanwhile, he Dallas secondary must contend with the record-setting wide receiver A.J. Brown, who looks to extend his mark of games with 125+ yards receiving to seven.
We say Brown gets it done again. The Eagles keep showing their championship mettle on a weekly basis and occasionally put forth a statement game. Here comes the statement: Philadelphia 33, Dallas 17.
Buffalo (5-3) at Cincinnati (7-1), Sunday Night Football, 8:20 p.m. ET, NBC
Thanks to Joe Burrow's apparent return to health, the luster this game took on when scheduled is restored. Or is it? Now it is Buffalo QB Josh Allen's turn to manage an injury as he missed practice Wednesday with a shoulder issue.
(Update: Ian Rappoport reported that Allen participated fully in Friday's practice and is expected to play)
The Bengals' offense looked crisp, efficient and balanced in dismantling San Francisco's defense in their 31-17 road win last week. This week the Bengals take on a Buffalo defense second in the NFL in sacks, and still playing well despite the loss to injury of Pro Bowl-caliber players at each level of the unit. A key for Buffalo will be containing Cincinnati wideout Ja'Marr Chase, who is looking unstoppable (four TDs in the last three games).
Despite an up-and-down stretch of its own in recent weeks, Buffalo boasts the league's No. 2 passing offense. The receiving trio of Stefon Diggs, Gabe Davis, and rookie tight end Dalton Kincaid is as good as any. But the Bills' running game was mostly dormant in earlier games, especially in losses. With the quarterback's health a question mark, James Cook and the Bills' ground attack need to step up to keep Allen from facing a lot of obvious passing situations.
A concern for the Cincinnati defense is the health of end Trey Hendrickson, who injured his foot in the 49ers game and was limited in practice this week.
We are buying into the narrative that Burrow is fully (or almost fully) healthy. When he is physically right, Joe Burrow is elite, and so is the Bengals' offense. Cincinnati 31, Buffalo 28.
Los Angeles Chargers (3-4) at New York Jets (4-3), Monday Night Football, 8:15 p.m. ET, ESPN
This game features one of the NFL's most lethal passing attacks against one of the league's stingiest pass defenses.
The Jets' defense is tough to throw against. Their strength is a top-tier secondary that shuts down opposing offenses despite not having a grea pass rush — 17 sacks on the year — in front of them. Perhaps the premier individual matchup will be Chargers' WR Keenan Allen against the Jets' outstanding corner Sauce Gardner. Chargers QB Justin Herbert threw for three scores against a suspect Chicago secondary; he will find the going much tougher against the Jets' back end.
Teams, however, run on New York with surprising success (144 yards per game). The problem for the Chargers is their ground game is as effective as a warning tag on a mattress, and we do not see LA suddenly springing Austin Ekeler on gashing runs. Ekeler, however, is a force as a receiver out of the backfield and will likely be utilized on short passes to help slow down New York's pass rush.
On the other side of the ball, it will be interesting to see whether Zach Wilson's clutch play in the win over the Giants translates into more dynamic quarterbacking throughout a game. Maybe the Jets do not need to establish Breece Hall and their running attack after all. After a monster 177-yard day in Denver, Hall gained just 56 yards in the wins over Philadelphia and the Giants. The Jets' offensive line is in shambles, primarily because of injury.
Still, a productive ground game might help keep Chargers' defensive ends Khalil Mack and Joey Bosa on their heels and Herbert and the Chargers' potent offense tethered to the sidelines.
In recent weeks, the Jets find a way to win. To this point in the season, the Chargers find ways to lose. That pattern holds Monday night. New York 19, Los Angeles 17.