Other Recent Stories
---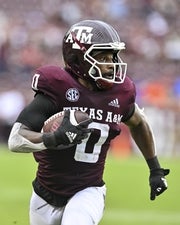 NFL's special eligibility list: Players with degrees and degrees of intrigue; See in order of NFL Draft Scout rating
Jan 24, 2023: (Below: See players listed in order of NFL Draft Scout rating) The list of 86 players to whom the NFL granted some sort of eligibility for 2023 draft is as interesting ... read the full story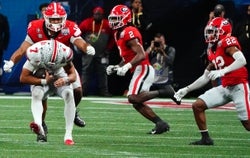 Draft Deadline Drama: Stroud, Addison, Johnston officially declare
Jan 15, 2023: (Updated 1-16-2023, noon ET) Stifling a crescendo of speculation to the contrary, Ohio State redshirt sophomore quarterback C.J. Stroud announced on social media ... read the full story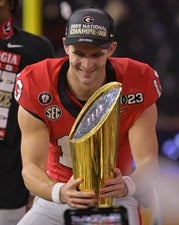 What's next for Georgia QB Stetson Bennett? Tough road ahead
Jan 11, 2023: (Updated 1-15-23) Now that quarterback Stetson Bennett led Georgia to a second consecutive National Championship with an embarrassingly easy, 65-7, win over TCU ... read the full story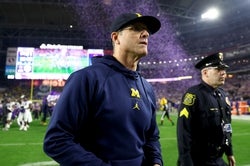 Will the real Jim Harbaugh please stand up?
Jan 09, 2023: Update: Jan 13 -- Harbaugh is in discussions for a new, long-term contract with Michigan.  As a football coach, Michigan's Jim Harbaugh is as subtle as a punch ... read the full story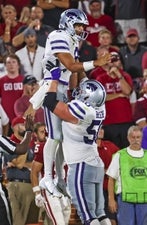 CFB Player Movement: KC Wildcats to keep OL Beebe, four others
Jan 07, 2023: Kansas State football coach Chris Klieman has some good news to share. He told the Kansas City Star expects the Wildcats to return all five starters on the offensive ... read the full story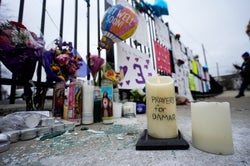 Hamlin Tragedy: Poignant Pause shows Progress in NFL fraternity
Jan 05, 2023: Announcement of the 15 finalists for the Pro Football Hall of Fame class of 2023 was postponed from Tuesday to Wednesday evening as all things involved with the ... read the full story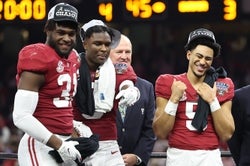 Bama's Young, Anderson declare for 2023 NFL Draft
Jan 02, 2023: As expected, Alabama quarterback Bryce Young and linebacker Will Anderson Jr. are officially headed to the NFL and could be two of the top three players selected ... read the full story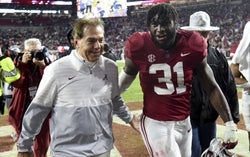 Lott IMPACT Trophy goes to Bama's Will Anderson Jr.
Dec 13, 2022: NEWPORT BEACH, CA. – Alabama's Will Anderson Jr. has been named the winner of the 19th Annual Lott IMPACT® Trophy. The announcement came Sunday night at the Pacific ... read the full story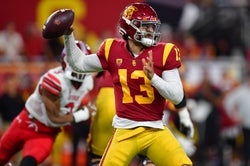 CFB Honors: No surprise, USC's Williams grabs Heisman and AP POY -- Other awards listed
Dec 09, 2022: And the winner is, and the winner is, and. . .  As expected, USC quarterback Caleb Williams added the 2022 Heisman Trophy to his pile of awards after a season in ... read the full story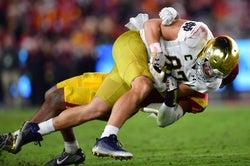 CFB Player tracking: ND's Pyne, Mayer move on; Virginia players granted another season -- 200 latest updates
Dec 07, 2022: Following quarterback Drew Pyne out the door -- but in a different direction -- Notre Dame star tight end Michael Mayer will enter the 2023 NFL Draft. Mayer relayed ... read the full story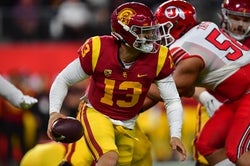 Heisman finalists: Williams, Stroud, Duggan Bennett -- no Robinson
Dec 06, 2022: There were no surprises when the four finalists were named Monday for this season's Heisman Memorial Trophy. Well, unless you were thinking Texas running back Bijan ... read the full story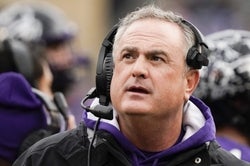 CFP Final Poll -- How committee filled last two playoff spots
Dec 05, 2022: We knew which teams would be at No. 1 and No. 2 when the College Football Playoff committee announced participants in this year's semifinals. Georgia, after dominating ... read the full story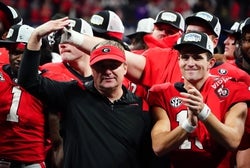 Record 42 Bowl Games: We list who, when, where and why
Dec 05, 2022: Are you ready for some MORE football? There is a record number of College Football Bowl games this season A total of 42 postseason games in the Football Bowl Subdivision ... read the full story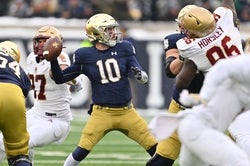 On your marks, set. . . . CFB players sprint to transfer portal
Dec 05, 2022: As we await the official Monday opening of College football's transfer portal, let's try to get our arms around the traffic jam of players who announced already ... read the full story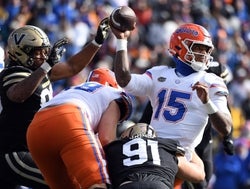 Monday is money day: Portal will open Wild, Wild West shootout
Dec 02, 2022:   Mike Bianchi of the Orlando Sentinal has hit upon something we at NFL Draft Scout have discussed in house often. He postulates that players with college eligibility ... read the full story

COMING
The Sports Xchange/NFL Draft Scout, in partnership with the Pro Football Hall of Fame, will launch an expanded multi-media product that covers the best of the best of players from all of football - High School, College, Pro and into retirement and the Hall of Fame. We soon will have a password-protected demonstration of this unique production. Stay tuned.
Meantime we are seeking qualified applicants to work with us much as many of the biggest names in this business gained their first major multi-media exposure. The list of alums from The Sports Xchange and NFL Draft Scout includes Dane Brugler (The Athletic), Kevin Demoff (GM, L. A. Rams), Jay Glazer (FOX insider), Rob Rang (FOX Draft, CFL Scout), Chad Reuter (NFL.com), Jim Trotter (NFL Network), Steve Wyche (NFL Network), Brian "Hitman" Hitterman (Draft Scout and Madden ratings guru) and many more. You could be next. Contact us with appropriate information at intern@sportsxchange.com
Must See: Live Player Notes
Arizona State Drew Pyne
Jan 28, 2023: Mmm, what might this mean for Arizona quarterback Drew Pyne, a redshirt sophomore who recently transferred from Notre Dame? ... read full note
Troy Asa Martin
Jan 28, 2023: Former Auburn running backs Asa Martin and Jordon Ingram have joined the football program at Troy, a school spokesman confirmed ... read full note
Iowa Joey Labas
Jan 28, 2023: When it comes to quarterbacks, the transfer portal giveth and the transfer portal taketh away. The Iowa football team gained ... read full note
South Alabama Javon Ivory
Jan 28, 2023: Loading up: South Alabama has welcomed four Division I transfers into the program: offensive linemen Jordan Davis (South ... read full note
Buffalo Jacob Orlando
Jan 28, 2023: Jake Orlando tore the anterior cruciate ligament in his left knee in the spring of 2018, wiping out his final season of playing ... read full note
Connecticut Jalen Mitchell
Jan 28, 2023: The UConn football team added to its list of new players via the transfer portal, getting running back Jalen Mitchell from ... read full note
South Carolina Jovaughn Gwyn
Jan 28, 2023: At the end of the college season NFL teams were saying good things about South Carolina guard Jovaughn Gwyn. When he was ... read full note
Clemson Joseph Ngata
Jan 28, 2023: Notes from NFLPA practice in Pasadena are split on wide receiver Joseph Ngata (Clemson). He is currently rated No. 261 overall, ... read full note
Memphis Alex Raynor
Jan 25, 2023: Memphis football may have found its next kicker after securing a commitment Saturday from Georgia Southern junior Alex Raynor. ... read full note
Mississippi State Mike Wright
Jan 25, 2023: Mississippi State added a familiar name to its quarterbacks room Sunday afternoon. Former Vanderbilt quarterback Mike Wright ... read full note
W.I.P. Disclaimer
This NFL Draft Scout site is a work in progress, re-launching a re-engineered publication for professional and public consumption after serving as the most widely distributed content of its kind since 1987.
For more than three decades, NFL Draft Scout was ubiquitous on the internet and created the primary draft content for the NFL, CBS, NBC, FOX, AOL, Reuters, STATS, Lindy's and much more. The new version is still based on an active database of more than 12,000 draft eligible players at any one time and historic information back to the first combined AFL-NFL draft in 1967. (See "Coming" at bottom of page)