CFB Player Movement: KC Wildcats to keep OL Beebe, four others
Roundup by Frank Cooney, NFL Draft Scout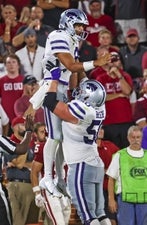 Sep 24, 2022; Norman, Oklahoma, USA; Kansas State Wildcats quarterback Adrian Martinez (9) celebrates with offensive lineman Cooper Beebe (50) after scoring a touchdown during the second half against the Oklahoma Sooners at Gaylord Family-Oklahoma Memorial Stadium. Mandatory Credit: Kevin Jairaj-USA TODAY Sports
Kansas State football coach Chris Klieman has some good news to share. He told the Kansas City Star expects the Wildcats to return all five starters on the offensive line next season. That includes star left guard Cooper Beebe, who was named Big 12 Offensive Lineman of the Year following a tremendous junior campaign with the Wildcats. "We have got a bunch of our offensive linemen returning," Klieman told ESPN on Thursday while appearing on College Football Live. "I think everybody, our top eight offensive linemen, are returning. So that is a pretty good spot." Though none of K-State's veteran offensive linemen have publicly announced that they will return for another season blocking together in front of Will Howard, it seemed like a strong possibility that they would stick together.
Beebe told reporters before the Sugar Bowl that K-State's entire offensive line had discussed the possibility of "running it back" for one more year. "We definitely have been in talks," Beebe said last week. "We have sat down at dinner a couple times and talked about it. There's nothing that has been ironed out, and it's still up in the air. But we are definitely in talks. If one of us comes back I think it's an all type of deal." It appears as though that is the plan. Beebe was a candidate to declare as an early entrant for the NFL Draft along with running back Deuce Vaughn, but it looks like he has decided to remain in college for one more year.
DE Jared Verse
Florida State standout defensive end Jared Verse, a projected first-round NFL draft pick, announced Saturday he is staying for another season. After two stellar seasons at Albany in the Football Championship Subdivision, Verse was the most coveted player in the NCAA transfer portal in 2022. He landed in Tallahassee and proved he could play at the Power Five level. He earned first-team All-Atlantic Coast Conference honors after leading Florida State with 14 1/2 tackles for loss, including 7 1/2 sacks, despite missing one game because of injury and being limited in several others.
He joins quarterback Jordan Travis, leading rusher Trey Benson and leading receiver Johnny Wilson in returning to play for coach Mike Norvell - and it could make the Seminoles (10-3) potential title contenders in 2023. "Obviously, the money is a big factor in it. But my biggest factor was, "What can I improve on?" Verse told ESPN after announcing his decision. "I just have to look at myself and say, 'OK, every day, I've still got a lot to improve on, I've still got a lot to be better at. "I did what was best for me, and what was best for me was coming back and competing with my team." - AP College Football
DT Tyler Davis
Tyler Davis and Ruke Orhorhoro are back. Davis and Orhorhoro, two of Clemson football's starting defensive tackles, are returning to the program for a fifth season, they confirmed on social media Friday. Davis was a first-team All ACC pick this season, and Orhorhoro was a third-team All ACC pick. They'd both previously accepted Senior Bowl invitations, walked on Senior Day and were projected as a Day 2 or 3 picks in April's NFL Draft. In returning to Clemson, Davis and Orhorhoro immediately position themselves as two of the top players on the Tigers' 2023 defense after excelling at defensive tackle alongside Bryan Bresee in recent seasons.<p>
Davis was statistically dominant as a senior with 31 total tackles, 9.5 tackles for loss and 5.5 sacks. He played in 12 games, started 11 and picked up second-team All-America honors from the Football Writers of America Association and Phil Steele. He also earned his second straight first-team All ACC honor. Splitting reps with Bresee and Davis, Orhorhoro had 23 total tackles, eight tackles for loss, five pass deflections and a career-high four sacks in 2022. - The State
WR Braydon Johnson
Oklahoma State wide receiver Braydon Johnson made it official Saturday. He has declared for the 2023 NFL Draft, he announced via Twitter.
Johnson had an impressive 2022 season for the Cowboys, hauling in 32 receptions for 566 yards and three touchdowns to help lead the offense. It was quite the turnaround after playing in just one game in 2021.
"I want to thank God for blessing me with guidance and the ability to persevere through this journey of chasing my dream," Johnson wrote. "Without him I am nothing. I also want to thank Oklahoma State for allowing me the opportunity to develop mentally and physically into the young man I am today. I will forever be grateful for that … With that being said I will continue to pursue my lifelong dream and declare for the 2023 NFL Draft."
WR Trent Whittemore
Things are looking up at UCF, on the roster and on the coaching staff. Former Florida wide receiver Trent Whittemore is staying in-state and is transferring to UCF, he announced via social media Saturday morning. Dan Mullen originally brought the Florida native to Gainesville, but struggled to find his footing under the leadership of new head coach Billy Napier, only having four receptions for 87 yards in 2022. Whittemore saw more success when Mullen was in charge, having 29 catches for 338 yards and two touchdowns during the 2020 and 2021 seasons.<p>
New UCF offensive coordinator and quarterbacks coach Darin Hinshaw signed a two-year deal that pays him $600,000 annually, according to documents obtained by the Orlando Sentinel. Additionally, new UCF defensive coordinator Addison Williams, who was promoted from assistant head coach and defensive backs coach, signed a two-year contract that included a $450,000 annual raise in pay, documents show. Williams originally signed a two-year deal that paid him $250,000 per year when he was hired by UCF coach Gus Malzahn in February 2021 but now he'll make $700,000 as the defensive coordinator and defensive backs coach. - Twitter and Orlando Sun Sentinel
RB Wayne Taulapapa
Former Washington and Virginia running back Wayne Taulapapa officially declared for the 2023 NFL Draft, he announced on his Twitter page on Friday evening. He shined in his only season with the Washington Huskies this year, putting up the best numbers of his college football career. Taulapapa racked up over 1,000 all-purpose yards and 12 total touchdowns. Per his Twitter account: "Always been a dream chaser, so why not me Grateful for each of you and the love and care I received both from my UVA and UW family CFB has been nothing but good to the kid from La'ie, Hawai'i! With that being said Big Papa // Samoan Slasher out #2023NFLDRAFT - Taulapapa Twitter.
WR Dee Wiggins
Former Louisville wide receiver Dee Wiggins has entered the NCAA Transfer Portal, On3's Matt Zenitz has confirmed. Wiggins was previously at Miami before joining the Cardinals program this season.
Wiggins played high school football at Miami Southridge (FL), where he was a three-star prospect. He was the No. 404 overall recruit in the 2018 cycle, according to the On3 Consensus, a complete and equally weighted industry-generated average that utilizes all four major recruiting media companies. - On3.com
WR Andrel Anthony
Former Michigan wideout Andrel Anthony is in the Transfer Portal and receiving interest from a lot of top programs across the country. On Saturday, he let his Twitter followers know that he was taking a visit to Oklahoma by posting a tweet with a pin with the location listed as Norman, OK.
Per his Twitter page, Anthony Jr. holds an offer from Oklahoma as well as offers from Miami and Notre Dame.
As a freshman in 2021, Anthony nearly reached 250 receiving yards. But as a sophomore this season he recorded just 80 total yards. Now, he's bouncing from Ann Arbor to find a better opportunity to catch passes.
Anthony played high school football at East Lansing (Mich.) High School, where he was a three-star prospect. He was the No. 533 overall recruit in the 2021 cycle, according to the On3 Consensus, a complete and equally weighted industry-generated average that utilizes all four major recruiting media companies.
---
Other Recent Stories
Top DT Jalen Hurts pleas no contest, limits legal exposure
Jalen Carter, NFLDraftScout.com's top-rated defensive tackle in the 2023 draft, pleaded no contest Thursday to misdemeanor charges of reckless driving and racing, ...
read the full story
NFL Declares Official free agent, franchise and transition players
The National Football League today (March 15)announced which players are free agents who now can negotiate with all 32 clubs.   Players are either "restricted" ...
read the full story
NFLDraftScout.com Post Combine Top 350 By Position
NFLDraftScout.com top 350 by position, after Indianapolis Combine In our ratings we include all available, verified data from the combine. In the case of the 40-yard ...
read the full story
NFLDraftScout.com Post Combine 350: A change at top for first time
After seeing this year's prospects up close during the Indianapolis Combine, we at NFLDraftScout.com made a few changes to the top 350, starting at the very top. ...
read the full story
Pro Day Tracker
Tracking Pro Days by school by date Top350 (Pos Rnk) Player, College, Pos, Ht, Wt, Class, Proj. Rd,C40ET, e40Time, C10ET, CVJ, CBJ, CBench, ProDayDate 172 (13) ...
read the full story
Latest Player Notes
Ohio State Jack Sawyer
Mar 07, 2023: Where is Jack Sawyer? The former five-star recruit never really took that Year 2 jump some may have anticipated. His raw ... read full note
Colorado Cormani McClain
Mar 07, 2023: Getting two of the best young cornerbacks in the country to come to Boulder was the first step. Now, the Colorado coaches ... read full note
Boise State Ashton Jeanty
Mar 07, 2023: Boise State running back Ashton Jeanty posted a career-high 178 rushing yards in the Broncos' 35-32 win over North Texas ... read full note
LSU Jacobian Guillory
Mar 07, 2023: After joining the defensive line rotation as a redshirt freshman, Jacobian Guillory stayed there last year. He started twice, ... read full note
Clemson Peter Woods
Mar 07, 2023: Monday marked freshman defensive lineman Peter Woods' first career practice as a Tiger. He's easily the most-hyped recruit ... read full note
Brigham Young Kody Epps
Mar 08, 2023: BYU wide receiver Kody Epps isn't your typical sophomore. Thanks to things like the pandemic and a redshirt year, he is already ... read full note
LSU Sage Ryan
Mar 08, 2023: Injuries limited Sage Ryan to four games with two starts as a freshman. Then last year, he became a rotational player who ... read full note
Florida Jason Marshall Jr.
Mar 08, 2023: Florida junior cornerback Jason Marshall Jr. wants to become a more vocal leader on the defense this spring. "There's young ... read full note
Miami Zion Nelson
Mar 08, 2023: Jalen Rivers, who has played mostly guard at UM, again lined up as the first-team left tackle, while Chris Washington was ... read full note
Cincinnati Dee Wiggins
Mar 08, 2023: Louisville transfer Dee Wiggins, a 6-foot-3, 195-pound wide receiver, found several balls Monday. Then again, after transferring ... read full note