CFB Week 10 Review: Georgia TE Brock Bowers Is Back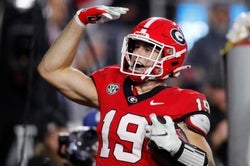 Georgia tight end Brock Bowers (19) celebrates after scoring a touchdown during the second half of a NCAA college football game against Ole Miss in Athens, Ga., on Saturday, Nov. 11, 2023. Georgia won 52-17.
Week 10 Review: Top 25 Teams
STATE COLLEGE, Pa. — With Jim Harbaugh banned by the Big Ten Conference, J.J. McCarthy, Blake Corum and No. 2 Michigan played unfazed by a scandal — their toughest opponent yet — that has hounded the program for weeks grinding past No. 9 Penn State 24-15 Saturday.
Corum ran for 145 yards and two touchdowns, McCarthy made some key plays with his arms and legs and the Wolverines (10-0, 7-0, No. 3 CFP) improved to 3-0 since it was revealed the program was under NCAA investigation for a sign-stealing scheme.
The struggles in big games continued for coach James Franklin and Penn State (8-2, 5-3, No. 10 CFP), which scored a combined 26 points in losses to Big Ten East rivals Ohio State and Michigan this season.
In a game Harbaugh no doubt loved from afar, on what turned into a chilly and gray day in Happy Valley, the Wolverines ran the ball on 32 straight plays that counted, starting with the final two of the first half and ending with a couple of kneel-downs.
Michigan requested a stay on Harbaugh's ban and this will be an ongoing story.
No. 1 GEORGIA 52, No. 10 MISSISSIPPI 17
ATHENS, Ga. — Carson Beck threw for 306 yards, Kendall Milton ran for 127 yards and Brock Bowers made a triumphant return for Georgia, which punctuated its return to the Southeastern Conference Championship Game with a rout of Mississippi.
The Bulldogs (10-0, 7-0 SEC, No. 2 College Football Playoff) turned in their most impressive performance of the season, on a cool, rainy night in Georgia, seemingly peaking at just the right time to make a run at their third straight national title.
Georgia scored touchdowns on its first four possessions, building a 28-14 halftime lead against Ole Miss (8-2, 5-2, No. 9) and cruising the rest of the way to its 27th consecutive victory.
A huge cheer went up from the crowd when Bowers was shown on the video board as one of the starters, just 26 days after his surgical procedure. He didn't have a huge game — three catches for 34 yards — but the touchdown reception in the opening minute of the fourth quarter was a reminder of what he means to the offense.
No. 3 OHIO STATE 38, MICHIGAN STATE 3
COLUMBUS, Ohio — Marvin Harrison Jr. caught two of Kyle McCord's three touchdown passes and rushed for another score, helping Ohio State pound Michigan State.
McCord threw for a career-high 335 yards for the Buckeyes (10-0, 7-0 Big Ten, No. 1 CFP), who overwhelmed the Spartans (3-7, 1-6) with touchdowns on five of their six first-half possessions.
Ohio State's defense, missing several key players due to injuries, held Michigan State to 182 total yards and two third-down conversions on 14 attempts.
Ohio State hosts Minnesota next weekend ahead of the Nov. 25 showdown with No. 2 Michigan, now embroiled in a sign-stealing scandal that led to a suspension for coach Jim Harbaugh. The Wolverines beat No. 9 Penn State, 24-15, on Saturday.
No. 4 FLORIDA STATE 27, MIAMI 20
TALLAHASSEE, Fla. — Trey Benson ran for two touchdowns, Keon Coleman hauled in a score and Florida State held off rival Miami to maintain its hold on a College Football Playoff berth.
The Seminoles (10-0, 8-0 Atlantic Coast Conference), as they have several times this season, rallied in the second half to win their 16th consecutive game. This one wrapped up the program's 10th perfect mark in ACC play.
Miami (6-4, 2-4) controlled both lines of scrimmage and played turnover-free football for most of the game. It still wasn't enough to overcome FSU, which has won three in a row in the series and 10 of the last 14.
Adding to Miami's woes, freshman quarterback Emory Williams suffered a significant injury to his left arm in the waning minutes while running for a first down. Williams started in place of struggling junior Tyler Van Dyke.
No. 5 WASHINGTON 35, No. 13 UTAH 28
SEATTLE — Quarterback Michael Penix Jr. threw for two touchdowns and ran for another, and Washington pitched a shut out in the second half to rally for a win over Utah.
The Huskies (10-0, 7-0 Pac-12, No. 5 CFP) extended the second-longest active win streak in the nation to 17 games and reached 10-0 for only the second time in school history. The only other time came in 1991, when the Huskies claimed a share of the national title with Miami.
Penix wasn't at his best on a blustery day on the shore of Lake Washington. But he made enough big plays in the pass game and allowed Washington's defense to make key adjustments at halftime after being unable to slow down the Utes in the first half.
Penix hit Rome Odunze on both of his touchdown throws, and ran for a two-yard TD in the first quarter. Penix was 24 of 42 passing for 332 yards. Odunze had three catches for 111 yards and Dillon Johnson rushed for 104 yards a week after running for 256 yards against Southern California.
No. 6 OREGON 36, SOUTHERN CALIFORNIA 27
Bo Nix threw for 402 yards and four touchdowns and No. 6 Oregon held off a late USC rally for the victory, effectively eliminating the Trojans from contention for the Pac-12 Championship Game.
Tez Johnson caught seven passes for 126 yards and two scores, and Oregon racked up 531 yards of total offense. It was the fourth straight win for the Ducks (9-1, 6-1 Pac-12, No. 6 CFP), who are undefeated at home.
Caleb Williams threw for 291 yards and a touchdown, and ran for another score. USC (7-4, 5-3 Pac-12) has lost four of its last five games after winning their first six.
No. 7 TEXAS 29, TCU 26
FORT WORTH, Texas — Quinn Ewers threw for 317 yards and a touchdown in his return from a shoulder injury, helping Texas edge TCU.
The Longhorns also got a big lift from Jonathon Brooks, who rushed for 104 yards and two TDs and set up another score with a 73-yard gain on a short pass before getting hurt late.
Ewers, a sophomore quarterback who missed two games after he got hurt on Oct. 21, completed 22 of 33 passes. He had 244 yards by halftime, and his biggest play of the second half was a 35-yard completion to Adonai Mitchell on 3rd-and-12 from the Texas 13 in the final two minutes.
Xavier Worthy had 10 catches for 137 yards for the Longhorns (9-1, 6-1 Big 12), who were outscored 20-3 in the second half.
Emani Bailey ran for 98 yards and a touchdown for TCU (4-6, 2-5),
No 8 ALABAMA 49, KENTUCKY 21
LEXINGTON, Ky. — Jalen Milroe had a career-high six touchdowns, three each rushing and passing, and Alabama cruised past Kentucky to clinch the Southeastern Conference West Division title.
A week after rushing for a career-best four touchdowns in a 42-28 victory over LSU, the sophomore quarterback used his arm and his feet to surpass that total and guide the Crimson Tide (9-1, 7-0 SEC, No. 8 CFP) to an eighth consecutive victory and third conference championship appearance in four seasons.
Milroe passed for three of his four TDs by halftime, including strikes of 26 and 40 yards to Amari Niblack and Kobe Prentice. The first score came after he sat out the game's sixth snap with an injured left thigh while being tackled on a 16-yard keeper.
Jamarion Miller also ran for a three-yard TD as Alabama beat Kentucky (6-4, 3-4) for the eighth consecutive time.
No. 12 OREGON STATE 62, STANFORD 17
CORVALLIS, Ore. — Damien Martinez ran for 146 yards and a career-high four touchdowns to lead Oregon State to a victory over Stanford.
Martinez, the Pac-12 freshman Offensive Player of the Year last year, surpassed 1,000 yards for the season and did most of his damage in the first half with 136 rushing yards and all four touchdowns, including a 59-yard score in the first quarter.
The Beavers (8-2, 5-2 Pac-12, No. 12 CFP) kept their Pac-12 Championship Game hopes intact and extended their home winning streak to nine games.
Stanford (3-7, 2-6), which was coming off a 10-7 win at Washington State and played No. 5 Washington close at home two weeks ago, couldn't keep up with the Beavers' big-play offense.
No. 16 MISSOURI 36, No. 14 TENNESSEE 7
COLUMBIA, Mo. — Cody Schrader put together one of the most impressive performances in Missouri history Saturday night, running for 205 yards and a touchdown, catching five passes for 116 yards and leading the Tigers to a rout of Tennessee.
Schrader's 321 yards from scrimmage were just 12 shy of the school record set by Devin West in 1998.
Brady Cook threw for 275 yards and accounted for two TDs, Luther Burden III scored a touchdown catch and Daylan Carnell added a 38-yard pick-six late in the game, helping the Tigers (8-2, 4-2 SEC, No. 14 CFP) finally beat one of their biggest nemeses.
The Volunteers (7-3, 3-3, No. 13) had won the last four in the series, and in the two since Josh Heupel took over in Knoxville, they had blasted the Tigers and coach Eli Drinkwitz by a combined 128-48.
UCF 45, No. 15 OKLAHOMA STATE 3
ORLANDO, Fla. — R.J. Harvey had a 92-yard touchdown run and UCF's defense forced four turnovers to help the Knights rout Oklahoma State.
Harvey rushed for 206 yards and three touchdowns to give him over 1,000 yards on the season. He has rushed for more than 100 yards in five straight games — the first Knights back to do that since Kevin Smith in 2007 — and his 92-yard TD was the second longest run in school history. Harvey had 157 of his yards in the second half.
The UCF (5-5, 2-5 Big 12) defense was stellar with three interceptions and forcing Oklahoma State's star running back Ollie Gordon to fumble for only the second time this season.
Oklahoma State (7-3, 5-2) never could get its ground game going, and it stalled the offense as the Cowboys saw their six-game win streak snapped. Gordon entered the game leading the nation in rushing yards but tallied only 25 yards on 12 carries. That snapped a streak of six straight 100-yard rushing games for the Cowboys' back. It was Gordon's fewest rushing yards in a game since the Sept. 16 loss to South Alabama.
No. 17 OKLAHOMA 59, WEST VIRGINIA 20
NORMAN, Okla. — Dillon Gabriel accounted for a school-record eight touchdowns to help Oklahoma roll past West Virginia.
Gabriel passed for 423 yards and five touchdowns and ran for 50 yards and three scores. He surpassed the previous touchdown record of seven set by Baker Mayfield in 2016 and matched by Kyler Murray in 2018.
Drake Stoops had career highs of 164 yards and three touchdowns receiving, Gavin Sawchuk had a career-best 135 yards rushing and Nic Anderson added four catches for 119 yards for Oklahoma (8-2, 5-2 Big 12, No. 17 CFP), which bounced back from a loss to rival Oklahoma State the previous Saturday.
West Virginia's CJ Donaldson ran for 79 yards and a touchdown before going down with a left leg injury in the third quarter. Devin Carter added three catches for 67 yards and a score for the Mountaineers (6-4, 4-3).
No. 18 LSU 52, FLORIDA 35
BATON ROUGE, La. — Jayden Daniels accounted for 606 total yards and five touchdowns as LSU defeated Florida.
Daniels continued to make his case for the Heisman Trophy, leading the Tigers (7-3, 5-2 SEC) to touchdowns on five consecutive second half possessions. He completed 17 of 26 passes for 372 yards and three touchdowns, and ran 12 times for 234 yards and two touchdowns to became the first quarterback in FBS history to account for at least 350 yards passing and 200 yards rushing in a game.
Florida (5-5, 3-4 SEC) took its only lead in the third quarter 28-24 on a 21-yard touchdown run by Trevor Etienne and Graham Mertz's 1-yard run.
TEXAS TECH 16, No. 19 KANSAS 13
LAWRENCE, Kan. — Gino Garcia hit a game-winning 30-yard field goal with 3 seconds to play and Texas Tech upset Kansas as the Jayhawks struggled after losing quarterback Jason Bean in the first half.
Tahj Brooks ran for 133 yards and a touchdown as the Red Raiders (5-5, 4-3 Big 12) came back after Kansas (7-3, 4-3) tied the game on a 22-yard field goal by Seth Keller with 26 seconds left in regulation.
Texas Tech opened a 10-0 lead in the first quarter as Brooks scored early on a five-yard TD run. Garcia added a 32-yard field goal late in the quarter.
The Red Raiders extended their lead to 13-0 early in the third quarter on Garcia's second field goal before Kansas got back into the game on a Devin Neal 60-yard touchdown run early in the fourth quarter.
No. 20 TULANE 24, TULSA 22
NEW ORLEANS — Makhi Hughes rushed for 131 yards and a touchdown, Shedro Louis returned a kickoff 100 yards for a score and Tulane defeated Tulsa to win its eighth straight game.
Michael Pratt passed for 194 yards and a touchdown to help the Green Wave (9-1, 6-0 American Athletic Conference, No. 23 CFP) remain on track to defend its league title and possibly receive a bid to a second straight major New Year's Day bowl game.
Louis' return came on the kickoff to open the second half and gave the Wave a 21-10 lead. It was his first touchdown since transferring from Liberty and came when Tulane needed some breathing room over a Tulsa team that delivered a feisty performance as it tried to snap a losing streak that has now reached five games.
Kirk Francis passed for a career-high 345 yards and a touchdown for Tulsa (3-7, 1-5),
No. 21 JAMES MADISON 44, CONNECTICUT 6
HARRISONBURG, Va. — Jordan McCloud threw for a career-high 457 yards and four touchdowns and No. 21 James Madison overcame a slow start and beat Connecticut, the Dukes' 13th consecutive win dating to last season.
McCloud connected with Reggie Brown on scoring throws of 80 and 55 yards, Zach Horton from 21 yards and Phoenix Sproles from five yards as the Dukes (10-0) pulled away after leading just 10-3 at halftime.
The Huskies (1-9) lost their fourth straight and third this season to a ranked team.
No. 23 ARIZONA 34, COLORADO 31
BOULDER, Colo. — Tyler Loop connected on a 24-yard field goal with no time remaining, and Arizona rallied to beat Colorado at sold-out Folsom Field.
Jonah Coleman rushed for 179 yards as the Wildcats (7-3, 5-2 Pac-12, No. 21 CFP) won their four straight game.
Arizona trailed 24-17 at the break, and didn't take its first lead until Loop's field goal. The Wildcats are 13-74 when trailing at halftime in the Pac-12 era.
Shedeur Sanders ran for a score and threw for two more as the Buffaloes (4-6, 1-6) lost for the sixth time in seven games since a 3-0 start. Sanders also finished with 262 yards passing to go over the 10,000-yard mark for his career.
NO. 24 NORTH CAROLINA 47, DUKE 45, 2OT
CHAPEL HILL, N.C. — North Carolina stopped Duke's two-point conversion attempt to tie the game in the second overtime to win a thriller that ended with UNC fans streaming onto the field to celebrate their home finale.
Duke's Grayson Loftis was unable to connect with Jalon Calhoun in the back of the end zone, capping a game that had seen the teams combine for 39 fourth-quarter points before pushing into extra periods.
Star quarterback Drake Maye provided the winning margin for the Tar Heels (8-2, 4-2 Atlantic Coast Conference), running around the right side and spinning through hits near the goal line to extend the ball for a five-yard keeper. Then he made a play on the fly for the conversion, breaking off a keeper as Duke's defense converged and flipping the ball ahead to John Copenhaver in the end zone for the 47-39 lead.
Loftis got the Blue Devils (6-4, 3-3) to answer by finding Jordan Moore over the middle for a six-yard score, only to fall short on the tying conversion.
Maye threw for 342 yards and a touchdown to go with two rushing scores and Omarion Hampton ran for 169 yards and a touchdown on a career-high 31 carries.
Loftis threw for 189 yards and three touchdowns and Jordan Waters also ran for 113 yards and two touchdowns for Duke.
No. 25 LIBERTY 38, OLD DOMINION 10
LYNCHBURG, Va. — Kaidon Salter threw three touchdown passes and ran for two more, all in the first half, as No. 25 Liberty kept its perfect record intact with a victory over Old Dominion.
The Flames, already the regular season champions in Conference USA, improved to 10-0 (7-0). It marks their second double-digit win season since transitioning to FBS competition in 2018 and third overall.
Salter, the three-time CUSA Offensive Player of the Week, completed 13 of 22 passes for 225 yards and also rushed 11 times for 41 yards in a little over three quarters.
Old Dominion (4-6, 3-3 Sun Belt) was largely ineffective on offense, managing just a field goal by Ethan Sanchez through the first 58-plus minutes. Javon Harvey's five-yard touchdown catch was nothing more than window-dressing on a tough day.
—Includes information from Associated Press