CFP Rankings: Buckeyes Hold On to No. 1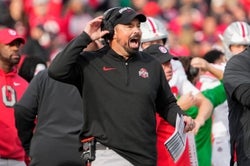 Nov 4, 2023; Piscataway, New Jersey, USA; Ohio State Buckeyes head coach Ryan Day yells from the sideline during the NCAA football game against the Rutgers Scarlet Knights at SHI Stadium. Ohio State won 35-16.
Ohio State remained No. 1 in the latest College Football Playoff rankings, announced Tuesday night on ESPN and the top eight teams remained unchanged from the first week.
But that will probably change.
This weekend features two games with four Top-10 teams on the CFP list:
—No. 2 Georgia (still No. 1 in the AP poll) hosts No. 9 Ole Miss (No. 10 per AP).
—No. 3 Michigan (No. 2 on AP list) travels to No. 10 Penn State (No. 9 on AP), noon ET on FOX.
The two-time defending national champion Dawgs are going after consecutive wins against Top 15 teams after beating No. 14 Missouri last week.
This will be Michigan's first shot at a ranked opponent this season, a fact that has devalued the appearance of dominance by the Wolverines, whose strength of schedule is No. 111.
Florida State remained No. 4 despite a shaky win over Pitt last week, and Washington stayed at No. 5 after winning a track meet at USC.
The Trojans are now out of both the AP and CFB Top 25.
Oregon follows Washington, which handed the Ducks their only loss this season.
Texas is No. 7 and Alabama, despite beating LSU last weekend (42-28) remains at No. 8 behind the Longhorns, who won at Alabama early in the season.
The Tigers of LSU are 6-3 but remained in the Top 25 as the highest-ranked three-loss team at No. 19.
Notre Dame, another three-loss team, also stayed in the Top 25 at No. 20 after a loss to Clemson.
Texas appears to be the remaining playoff hope for the Big 12 after Oklahoma State upset Oklahoma (27-24) in the final intrastate rivalry game known as Bedlam.
The Sooners fell to No. 17, below the Cowboys and No. 16 Kansas.
To make the top four Texas must win out and get help from others. Longhorns quarterback Quinn Ewers began throwing Tuesday, only the second week into what is expected to be a four-to-six-week recovery from a Grade 2 AC strain.
Tulane is the only ranked Group of 5 team, at No. 23, after then-No. 24 Air Force lost to Army on Saturday.
Notable teams joining the Top 25 include:
—Arizona (6-3) at No. 21
—Iowa (7-2) at No. 22
—North Carolina (7-2) at No. 24.
The Full CFP Rankings Nov. 7, 2023
RANKING RECORD
1. Ohio State 9-0
2. Georgia 9-0
3. Michigan 9-0
4. Florida State 9-0
5. Washington 9-0
6. Oregon 8-1
7. Texas 8-1
8. Alabama 8-1
9. Ole Miss 8-1
10. Penn State 8-1
11. Louisville 8-1
12. Oregon State 7-2
13. Tennessee 7-2
14. Missouri 7-2
15. Oklahoma State 7-2
16. Kansas 7-2
17. Oklahoma 7-2
18. Utah 7-2
19. LSU 6-3
20. Notre Dame 7-3
21. Arizona 6-3
22. Iowa 7-2
23. Tulane 8-1
24. North Carolina 7-2
25. Kansas State 6-3