EA pushes back re-launch of College Football Game to 2024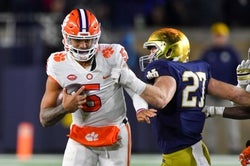 Nov 5, 2022; South Bend, Indiana, USA; Clemson Tigers quarterback DJ Uiagalelei (5) is sacked by Notre Dame Fighting Irish linebacker JD Bertrand (27) in the third quarter at Notre Dame Stadium. Mandatory Credit: Matt Cashore-USA TODAY Sports
Electronic Arts sources confirmed to NFL Draft Scout that the highly anticipated re-release of NCAA Football — with a working title of EA College Football — will be pushed back a year past the target date of July, 2023.
The original game built a cult following until 2014 when concerns over use of name, image, likeness (NIL) became an issue, and EA shut the down the game to avoid growing legal and financial concerns. Word that the game would be revived drew massive interest from fans and college players who honed their skills and interest playing the original version.
In fact, NFL Draft Scout and Draft Scout player rankings master Brian Hitterman — an icon from the old Madden Football days — is reportedly eyeing release of the new game as yet another arm of interest for which to flex his vast database of player information and ratings.
EA Sports vice president and general manager Daryl Holt told ESPN that bringing the game up to speed after almost a decade is a monumental task, especially considering how much the game has evolved since 2014.
So 2024 is now the target.
"That's the best date for us to bring the game that we think is going to meet or exceed our player expectations," Holt said. "And cover the breadth and scale of what we want in the game. We're trying to build a very immersive college football experience."
Perhaps most important, it is widely known — though not officially confirmed — that players will be compensated if they are in the game. Yes, this will become an extension of the NIL frenzy that is also underwriting much of the transfer activity in college football.
Several companies blew up the group-licensing scene even before NIL laws for college athletes went into effect in 2021. All this plays into the re-launch of the popular EA College video game.
For example, CLC/Compass is growing a massive database of college and pro athletes to facilitate an almost seamless integration of players and sponsors that can address EA's NIL challenge. CLC/Compass is intent on becoming EA's main source of group rights.
Ironically, some players were so glad the EA College Football game was returning that they weren't concerned about the money. Or so they say.
"I mean, I don't even care if I'm gonna get paid to be in the game. I just want to be in the game." Clemson quarterback DJ Uiagalelei said.
Maybe. But history says when they say it isn't about the money...it is about the money.
While challenges with the aesthetics and integrity of the game are significant and will take time to tame, EA certainly can benefit by riding the wave of a company like Compass to address the gnarly NIL issue.