EA pushes back re-launch of College Football Game to 2024
By Frank Cooney, NFL Draft Scout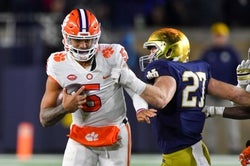 Nov 5, 2022; South Bend, Indiana, USA; Clemson Tigers quarterback DJ Uiagalelei (5) is sacked by Notre Dame Fighting Irish linebacker JD Bertrand (27) in the third quarter at Notre Dame Stadium. Mandatory Credit: Matt Cashore-USA TODAY Sports
Electronic Arts sources confirmed to NFL Draft Scout that the highly anticipated re-release of NCAA Football -- with a working title of EA College Football -- will be pushed back a year past the target date of July, 2023.
The original game built a cult following until 2014 when concerns over use of name, image, likeness became an issue and EA shut it down to avoid growing legal and financial concerns. Word that the game would be revived drew massive interest from fans and college players who honed their skills and interest on the original version.
In fact, NFL Draft Scout and Draft Scout player rankings master Brian Hitterman -- an icon from the old Madden Football days -- is reportedly eyeing release of the new game as yet another arm of interest for which to flex his vast database of player information and ratings.
EA Sports vice president and general manager Daryl Holt told ESPN that bringing the game up to speed after almost a decade is a monumental task, especially considering how much the game has evolved since 2014.
So 2024 is now the target.
"That's the best date for us to bring the game that we think is going to meet or exceed our player expectations," Holt said. "And cover the breadth and scale of what we want in the game. We're trying to build a very immersive college football experience."
Perhaps most important, it is widely known -- though not officially confirmed -- that players will be compensated if they are in the game. Yes, this will become an extension of the NIL frenzy that is also underwriting much of the transfer activity in college football.
Several companies blew up the group licensing scene even before NIL laws for college athletes went into effect in 2021. All this plays into the re-launch of the popular EA college video game.
For example, CLC/Compass is growing a massive database of college and pro athletes to facilitate an almost seamless integration of players and sponsors that can address EA's NIL challenge. CLC/Compass is intent on becoming EA's main source of group rights.
Ironically, some players were so glad the EA College Football game was returning that they weren't concerned about the money. Or so they say.
"I mean, I don't even care if I'm gonna get paid to be in the game. I just want to be in the game." Clemson quarterback DJ Uiagalelei said
Maybe. But history says when they say it isn't about the money, it is about the money.
While challenges with the aesthetics and integrity of the game are significant and will take time to tame, EA certainly can benefit by riding the wave of a company like Compass to address the gnarly NIL issue.
---
Other Recent Stories
NEW -- Jan. 24: NFL Draft Scout top 200
                                                                                                                                                                 ...
read the full story
NFL's special eligibility list: Players with degrees and degrees of intrigue; See in order of NFL Draft Scout rating
(Below: See players listed in order of NFL Draft Scout rating) The list of 86 players to whom the NFL granted some sort of eligibility for 2023 draft is as interesting ...
read the full story
Draft Deadline Drama: Stroud, Addison, Johnston officially declare
(Updated 1-16-2023, noon ET) Stifling a crescendo of speculation to the contrary, Ohio State redshirt sophomore quarterback C.J. Stroud announced on social media ...
read the full story
Bengals: One player in HOF, two on doorstep -- Willie Anderson and Ken Riley
Cincinnati is only about a three hour drive from Canton Ohio, home of the Pro Football Hall of Fame, but for the Bengals it seems like a million miles away. In more ...
read the full story
What's next for Georgia QB Stetson Bennett? Tough road ahead
(Updated 1-15-23) Now that quarterback Stetson Bennett led Georgia to a second consecutive National Championship with an embarrassingly easy, 65-7, win over TCU ...
read the full story
Latest Player Notes
Arizona State Drew Pyne
Jan 28, 2023: Mmm, what might this mean for Arizona quarterback Drew Pyne, a redshirt sophomore who recently transferred from Notre Dame? ... read full note
Troy Asa Martin
Jan 28, 2023: Former Auburn running backs Asa Martin and Jordon Ingram have joined the football program at Troy, a school spokesman confirmed ... read full note
Iowa Joey Labas
Jan 28, 2023: When it comes to quarterbacks, the transfer portal giveth and the transfer portal taketh away. The Iowa football team gained ... read full note
South Alabama Javon Ivory
Jan 28, 2023: Loading up: South Alabama has welcomed four Division I transfers into the program: offensive linemen Jordan Davis (South ... read full note
Buffalo Jacob Orlando
Jan 28, 2023: Jake Orlando tore the anterior cruciate ligament in his left knee in the spring of 2018, wiping out his final season of playing ... read full note
Connecticut Jalen Mitchell
Jan 28, 2023: The UConn football team added to its list of new players via the transfer portal, getting running back Jalen Mitchell from ... read full note
South Carolina Jovaughn Gwyn
Jan 28, 2023: At the end of the college season NFL teams were saying good things about South Carolina guard Jovaughn Gwyn. When he was ... read full note
Clemson Joseph Ngata
Jan 28, 2023: Notes from NFLPA practice in Pasadena are split on wide receiver Joseph Ngata (Clemson). He is currently rated No. 261 overall, ... read full note
Memphis Alex Raynor
Jan 25, 2023: Memphis football may have found its next kicker after securing a commitment Saturday from Georgia Southern junior Alex Raynor. ... read full note
Mississippi State Mike Wright
Jan 25, 2023: Mississippi State added a familiar name to its quarterbacks room Sunday afternoon. Former Vanderbilt quarterback Mike Wright ... read full note