Heisman finalists: Williams, Stroud, Duggan Bennett -- no Robinson
By Frank Cooney, NFL Draft Scout, The Sports Xchange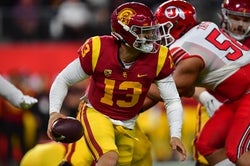 Dec 2, 2022; Las Vegas, NV, USA; Southern California Trojans quarterback Caleb Williams (13) runs the ball against the Utah Utes during the first half of the PAC-12 Football Championship at Allegiant Stadium. Mandatory Credit: Gary A. Vasquez-USA TODAY Sports
There were no surprises when the four finalists were named Monday for this season's Heisman Memorial Trophy.
Well, unless you were thinking Texas running back Bijan Robinson deserved a seat in New York.
Southern California quarterback Caleb Williams, Ohio State quarterback C.J. Stroud, TCU quarterback Max Duggan and Georgia quarterback Stetson Bennett were named finalists for the Heisman Memorial Trophy on Monday.
The winner will be announced during a live telecast Saturday starting at 8 p.m. ET on ESPN.
The award presentation ceremony invitee list will be capped at four finalists and is the first time since 2013 that there are four quarterbacks who are finalists. That year, six players attended the ceremony.
Williams, a sophomore, led the Trojans to the Pac-12 championship game, one year after transferring from Oklahoma and heading west along with head coach Lincoln Riley to revive a stagnant program. He has completed 66.1% of his passes for 4,075 yards, while throwing for 37 touchdowns and only four interceptions. He is seeking to be Riley's third Heisman Trophy winner and USC's first Heisman winner since Reggie Bush in 2005, an award that was later vacated.
Stroud is a Heisman finalist for the second consecutive year. He finished fourth in last year's voting. Despite the Buckeyes losing to Michigan, Stroud has Ohio State in the College Football Playoff after passing for 3,340 passing yards and is tied with Williams and Houston's Clayton Tune for the nation's lead with 37 touchdowns, while leading the FBS in passing efficiency.
Duggan led TCU to its first College Football Playoff berth as the Horned Frogs defied all odds before their undefeated season was ruined in the Big 12 title game by Kansas State. Duggan, TCU's first Heisman finalist since LaDainian Tomlinson in 2000, led the Big 12's highest scoring offense, throwing for 3,321 yards, 30 touchdowns and four interceptions. He was named the conference's Offensive Player of the Year by the league's coaches.
Bennett, a 25-year-old sixth-year senior, led top-ranked and defending national champion Georgia to an undefeated record as the Bulldogs were atop the polls for most of the season. Bennett threw for 3,425 yards with 20 touchdowns and six interceptions in 2022 and has a 26-3 record as starting quarterback. It's Georgia first Heisman finalist since 1992, when Garrison Hearst finished third behind Gino Torretta and Marshall Faulk.
Robinson made a case in 2022 thanks to consistent play and a blend of speed and power. He rushed for 1,508 yards, fifth-most in the country among FBS players, and totaled 20 touchdowns, second-most among all FBS playmakers, trailing only Pitt's Israel Abanikanda (21). He will definitely have some votes, but apparently not enough to earn a trip to the ceremony.
---
Other Recent Stories
Top DT Jalen Hurts pleas no contest, limits legal exposure
Jalen Carter, NFLDraftScout.com's top-rated defensive tackle in the 2023 draft, pleaded no contest Thursday to misdemeanor charges of reckless driving and racing, ...
read the full story
NFL Declares Official free agent, franchise and transition players
The National Football League today (March 15)announced which players are free agents who now can negotiate with all 32 clubs.   Players are either "restricted" ...
read the full story
NFLDraftScout.com Post Combine Top 350 By Position
NFLDraftScout.com top 350 by position, after Indianapolis Combine In our ratings we include all available, verified data from the combine. In the case of the 40-yard ...
read the full story
NFLDraftScout.com Post Combine 350: A change at top for first time
After seeing this year's prospects up close during the Indianapolis Combine, we at NFLDraftScout.com made a few changes to the top 350, starting at the very top. ...
read the full story
Pro Day Tracker
Tracking Pro Days by school by date Top350 (Pos Rnk) Player, College, Pos, Ht, Wt, Class, Proj. Rd,C40ET, e40Time, C10ET, CVJ, CBJ, CBench, ProDayDate 172 (13) ...
read the full story
Latest Player Notes
Ohio State Jack Sawyer
Mar 07, 2023: Where is Jack Sawyer? The former five-star recruit never really took that Year 2 jump some may have anticipated. His raw ... read full note
Colorado Cormani McClain
Mar 07, 2023: Getting two of the best young cornerbacks in the country to come to Boulder was the first step. Now, the Colorado coaches ... read full note
Boise State Ashton Jeanty
Mar 07, 2023: Boise State running back Ashton Jeanty posted a career-high 178 rushing yards in the Broncos' 35-32 win over North Texas ... read full note
LSU Jacobian Guillory
Mar 07, 2023: After joining the defensive line rotation as a redshirt freshman, Jacobian Guillory stayed there last year. He started twice, ... read full note
Clemson Peter Woods
Mar 07, 2023: Monday marked freshman defensive lineman Peter Woods' first career practice as a Tiger. He's easily the most-hyped recruit ... read full note
Brigham Young Kody Epps
Mar 08, 2023: BYU wide receiver Kody Epps isn't your typical sophomore. Thanks to things like the pandemic and a redshirt year, he is already ... read full note
LSU Sage Ryan
Mar 08, 2023: Injuries limited Sage Ryan to four games with two starts as a freshman. Then last year, he became a rotational player who ... read full note
Florida Jason Marshall Jr.
Mar 08, 2023: Florida junior cornerback Jason Marshall Jr. wants to become a more vocal leader on the defense this spring. "There's young ... read full note
Miami Zion Nelson
Mar 08, 2023: Jalen Rivers, who has played mostly guard at UM, again lined up as the first-team left tackle, while Chris Washington was ... read full note
Cincinnati Dee Wiggins
Mar 08, 2023: Louisville transfer Dee Wiggins, a 6-foot-3, 195-pound wide receiver, found several balls Monday. Then again, after transferring ... read full note