Lott IMPACT Award: Buffs 2-way Hunter among 9 semifnalsts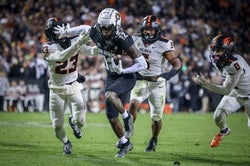 Nov 4, 2023; Boulder, Colorado, USA; Colorado Buffaloes cornerback Travis Hunter (12) breaks past Oregon State Beavers defensive back Jermod McCoy (23) at Folsom Field. Mandatory Credit: Chet Strange-USA TODAY Sports
NEWPORT BEACH, CA. – The Pacific Club IMPACT® Foundation has named nine semifinalists for the 2023 Lott IMPACT® Trophy.
The Lott IMPACT® Trophy, now in its 20th year, goes to the student-athlete who best exhibits the characteristics of Ronnie Lott by making an IMPACT® on and off the field. IMPACT® is an acronym for Integrity, Maturity, Performance, Academics, Community and Tenacity.
Finalists will be invited to attend the annual Lott IMPACT® Trophy award show, December 10, 2023, in Newport Beach, California. Joel Klatt from Fox Sports will emcee the event.
The university of the winner will receive $25,000 for its general scholarship fund while the other finalists will receive $5,000 for each of their schools.
The 2023 Lott IMPACT® Trophy semifinalists include four defensive linemen, two linebackers, and three defensive backs from the ACC, Big Ten, SEC, and Pac 12 conferences.
The 2023 Lott IMPACT® Trophy Semifinalists:
Junior Colson, LB, Michigan
Cooper DeJean, DB, Iowa
Jonah Elliss, DL, Utah
Travis Hunter, DB, Colorado
Laiatu Latu, DE, UCLA
Kool-Aid McKinstry, DB, Alabama
Jer'Zhan Newton, DT, Illinois
Dallas Turner, LB, Alabama
Jared Verse, DE, Florida State
Previous Winners of the Lott IMPACT® Trophy
2004 – David Pollack, Georgia
2005 – DeMeco Ryans, Alabama
2006 – Dante Hughes, Cal
2007 – Glenn Dorsey, LSU
2008 – James Laurinaitis, Ohio State
2009 – Jerry Hughes, TCU
2010 – J.J. Watt, Wisconsin
2011 – Luke Kuechly, Boston College
2012 – Manti Te'o, Notre Dame
2013 – Anthony Barr, UCLA
2014 – Eric Kendricks, UCLA
2015 – Carl Nassib, Penn State
2016 – Jabrill Peppers, Michigan
2017 – Josey Jewell, Iowa
2018 – Josh Allen, Kentucky
2019 – Derek Brown, Auburn
2020 – Paddy Fisher, Northwestern
2021 – Aidan Hutchinson, Michigan
2022 – Will Anderson Jr., Alabama
The 20th Annual Lott IMPACT® Trophy Award Presentation will be held December 10th at The Pacific Club in Newport Beach, California. To purchase tickets for the event, click here or for more information on The Lott Trophy visit: www.LottImpactTrophy.org