Michigan's Harbaugh Suspended for Season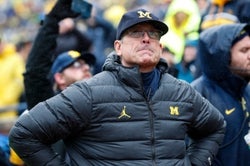 Michigan coach Jim Harbaugh looks on from the sidelines during the Wolverines game against Indiana on Oct. 14, 2023.
As expected, the Big Ten Conference suspended Michigan football coach Jim Harbaugh for the rest of the regular season.
This is Harbaugh's second suspension of the season and is due to a sign-stealing investigation into the program. Harbaugh will be allowed to coach his team through the week leading up to games.
(UPDATE: The University of Michigan filed a temporary restraining order Friday night to block the Big Ten's decision, but a ruling on that order will not be made until Friday, Nov. 17. As a result, the suspension remains in effect, and Harbaugh will not be joining his team on the sideline Saturday, when the No. 3 Wolverines visit No. 9 Penn State in State College, PA.)
The Big Ten released the following statement Friday about its decision to suspend Harbaugh:
"The Big Ten Conference announced today that the University of Michigan has been found in violation of the Big Ten Sportsmanship Policy for conducting an impermissible, in-person scouting operation over multiple years, resulting in an unfair competitive advantage that compromised the integrity of competition," the Big Ten said.
"Big Ten Conference Agreement 10.01 states in part that "The Big Ten Conference expects all contests involving a member institution to be conducted without compromise to any fundamental element of sportsmanship. Such fundamental elements include integrity of the competition, civility toward all, and respect, particularly toward opponents and officials.
"As a penalty imposed on the institution, the University football team must compete without its Head Football Coach for the games remaining in the 2023 regular season, effective immediately. This disciplinary action shall not preclude the University or its football team from having its Head Football Coach attend practices or other football team activities other than the game activities to which it applies. For clarity, the Head Football Coach shall not be present at the game venue on the dates of the games to which this disciplinary action applies.
"The Big Ten Conference will have no additional comment at this time."
On Friday morning, prior to Michigan getting on the team plane to head to Penn State, ESPN's Heather Dinich reported a decision from the Big Ten was expected to be handed down the same day.
"Sources indicate that the Big Ten will give Michigan a response early this afternoon," Dinich said on Get Up. "Michigan leaves at 1 p.m., they'll fly mid-afternoon…Last night, Michigan sources indicated to me and my colleague that they had not had any communication with the Big Ten and there still has not been evidence presented to Michigan that Jim Harbaugh knew, orchestrated any of this, or lied.
"The Big Ten, we've learned has considered the gamut of punishments," she continued. "Now, we're hearing this morning, it could be a three-game suspension, which would be significant and it could start this weekend."
Standard policy for the Big Ten was to serve up to a two-game suspension and $10,000 fine. However, permission from an executive board would allow the Big Ten to dish out more of a punishment than that, per Dinich.
Harbaugh previously served a self-imposed, three-game suspension as part of the NCAA's investigation into recruiting violations during the COVID dead period. The NCAA has still yet to hand down punishment on that infractions case, for which Harbaugh faces a Level I violation for not cooperating with or misleading NCAA investigators about the alleged violations.
Now, he and the Wolverines are at the center of another inquiry by the NCAA.
Recently fired, and now former staffer, Connor Stalions is alleged to have operated a system to send scouts to future opponents' games, tasked with gathering information on signals that Michigan could then use when playing that opponent — violating NCAA rules. Stalions announced his resignation on Nov. 3 and, in a statement through his lawyer, claimed Harbaugh didn't know about the actions.
In early November, Big Ten member schools began to request the conference to take action. Minus Harbaugh, Big Ten coaches held a call with commissioner Tony Petitti to express their frustrations with the un-level playing field created by the scandal. They called on the league to take action against Harbaugh and the Wolverines.
That was followed by conference athletic directors talking with Petitti, repeating the same sentiment, and suggesting that Harbaugh be suspended.
Petitti confirmed to the athletic directors that he spoke with the NCAA regarding the Wolverines, and he was on UM's campus Nov. 3 for the Big Ten field hockey championships. At that time he intended to meet with UM president Santa Ono. ESPN's Pete Thamel reported that Petitti also met with conference presidents that same day.
Harbaugh was on the sidelines for Michigan's game against Purdue, but the university received on Nov. 6 from the Big Ten a notice of potential disciplinary. The Wolverines had until Nov. 8 to respond, and they did in a 10-page document to the conference.
That full 10-page document was released on Thursday, Nov. 9.
Michigan pointed out multiple documents and pictures of the Wolverines' own offensive and defensive signs that were stolen by other teams. Reports came out Tuesday that multiple programs decoded Michigan's signals and shared that information with other programs. In addition, the university said "unadjudicated rule violations cannot be the basis for a sportsmanship action," Yahoo Sports' Dan Wetzel wrote.
UM also argued Petitti doesn't have the authority to punish Harbaugh under the league's sportsmanship policy, and that disciplinary action would be "highly disproportionate given the broader regulatory context of the case" at this time, according to Wetzel.
And what about Michigan's status with the College Football Playoff (CFP), where the Wolverine's rank No. 3, behind No. 1 Ohio State and No. 2 Georgia?
CFP executive director Bill Hancock and committee chairman Boo Corrigan said the committee will continue to look at what happens on the field. Corrigan added the CFP looks at the situation as "an NCAA issue, not a CFP issue."