On your marks, set. . . . CFB players sprint to transfer portal
By Frank Cooney, NFL Draft Scout, The Sports Xchange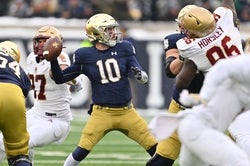 Nov 19, 2022; South Bend, Indiana, USA; Notre Dame Fighting Irish quarterback Drew Pyne (10) throws in the second quarter against the Boston College Eagles at Notre Dame Stadium. Mandatory Credit: Matt Cashore-USA TODAY Sports
As we await the official Monday opening of College football's transfer portal, let's try to get our arms around the traffic jam of players who announced already they intend to move -- probably.
Some hedge their bet by saying they may stay, but that's just a polite formality as the amount of NIL money will probably be the decider.
Last year, more than 3,000 FBS players entered the portal, which was open year-round. Quarterbacks Caleb Williams (USC), Bo Nix (Oregon) and Spencer Rattler (South Carolina) were among the prominent transfers who made an immediate impact at their new schools.
This time around, the NCAA set dates when players can enter the portal and not lose a year of eligibility, though they can sign with their new school at any time. The first window is open for 45 days from Dec. 5 until Jan. 18, and the second runs in the spring from May 1-15. There are exceptions for graduate transfers and for players going through head-coaching changes.
This is a rapidly moving target, but from last Monday to Saturday about 150 FBS and 393 FCS players declared intention to enter the portal.
As they say in show biz, you ain't seen nothing yet.
Here are some players who say they are portal-bound.
Notre Dame QB Drew Pyne
Pyne is a third-year player who will have three years of eligibility at his next destination. He started 10 games for Notre Dame this season, leading it to an 8-2 record and finishing No. 20 nationally in individual quarterback efficiency. Pyne threw 22 touchdowns, six interceptions and rushed for 108 yards and two more touchdowns. He completed 64.6 percent of his passes. He had a 4-1 record against top-25 teams, which was the most wins against top-25 competition at Notre Dame in the last decade.
Leading MAC rusher Carson Steele
One of the most intriguing players on the move, Steele, the sophomore running back who finished the regular season sixth in the Football Bowl Subdivision with 1,556 rushing yards, announced his intention to enter the portal Saturday in a tweet, where he thanked God and Ball State's players, coaches and staff.
"My family and I have decided that it would be best for me to enter the transfer portal for my remaining years of eligibility," Steele said in a tweet. "Again, I would like to say thank you to Ball State for the last two years and I wish nothing but success for their program as they move on."
Steele recorded 2,447 rushing yards, 323 receiving yards and 22 total touchdowns in his first two seasons. In Ball State single-season records, Steele finished third in rushing yards (1,556) and tied for third in touchdowns (14) this season. Steele is 10th in career rushing yards at Ball State. Steele isn't the first BSU player to enter the portal this season, but his decision is certainly the biggest blow for the Cardinals, who finished 5-7 in 2022, moving forward.
NIU running back Harrison Waylee
This becomes the second year in a row the Huskies will have to replace the team's leading rusher. Last season, running back Jay Ducker ran for over 1,000 yards and was the MAC Freshman of the Year before transferring to Memphis. Coach Thomas Hammock could not be reached for comment. In a statement, Waylee thanked Hammock and the coaching staff for making his time with the Huskies a great experience.
"Over the last three years I have grown as a player, student and person as a result of this community," Waylee said in the statement. Waylee played in all but one game this year, rushing for 899 yards and five touchdowns.
He was hurt after five games last year but still ran for 574 yards and four touchdowns, plus was the leading rusher in the COVID-shortened 2020 campaign. Waylee's injury last year paved the way for Ducker to take over as the lead back, running 218 times for 1,184 yards and three touchdowns. He was named the MAC Freshman of the Year and then transferred to Memphis, where he ran for 461 yards on 97 carries and five touchdowns this season. The Huskies won the MAC last year, but went 3-9 this year.
Iowa sophomore WR Arland Bruce IV
Bruce becomes the fourth Iowa player to enter the NCAA transfer portal, joining quarterback Alex Padilla, wide receiver Keagan Johnson and offensive lineman Josh Volk. On Thursday night, Iowa received its first transfer portal entry when Michigan quarterback Cade McNamara announced his intent to transfer into the program.
Bruce, a former four-star recruit from Ankeny, totaled 44 catches for 396 yards and two touchdowns in addition to 22 rushes for 112 and four touchdowns on the ground over two seasons. He also served as a primary punt returner this season, returning 19 punts for 123 yards. In a season when Iowa's wide receivers were largely hampered by injuries, Bruce was the most consistent presence on the field. He appeared in all but one game and was the only healthy scholarship receiver available through Iowa's first two games. In that regard, he emerged as one of the leaders on Iowa's offense early in the season.
Florida Gators RBs Nay'Quan Wright and Lorenzo Lingard.
Wright was a starter and team captain in week one during Florida's 29-26 upset of No. 8 Utah, but eventually lost carries to Montrell Johnson Jr. and Trevor Etienne as the season progressed. He finished the season with 47 carries for 190 yards and 2 TDs. Overall, Wright finished with 688 yards and 3 rushing TDs in four seasons with the Gators, with 332 yards and 1 TD receiving.
Arizona WR Jamarye Joiner
After five years with his hometown team, Joiner will look outside Tuscon. The Wildcats wide receiver and former Cienega High School star announced on Friday that he will enter the NCAA transfer portal. Joiner will have one more season of eligibility as a graduate transfer. The 6-foot-1-inch, 220-pound Joiner was originally recruited by the Rich Rodriguez regime to play quarterback for the Wildcats. Rodriguez's successor, Kevin Sumlin, converted Joiner to wide receiver. Joiner had a breakout season in 2019, leading the Wildcats with 552 receiving yards and five touchdowns. In the second half of Joiner's career at the UA, he endured multiple surgeries for a Jones fracture in the same foot.
Wisconsin's QB Graham Mertz
Three-year starter in 32 games for the Badgers, throwing for 5,405 yards, 38 touchdowns and 26 interceptions in his four-year career. Mertz, who will have two years of eligibility remaining, went 19-13 as Wisconsin's starter, however the Badgers went from 9-4 in 2021 to 6-6 in 2022, firing coach Paul Chryst in October. They hired Luke Fickell on Nov. 27. While Mertz's 52.5 Total QBR ranked ninth among 12 qualified Big Ten quarterbacks in 2022, his 9.82 air yards per attempt ranked third in the conference and 21st among 124 qualified passers.
Indiana freshman LB to Dasan McCullough
The highest-ranked prospect in Indiana's 2022 recruiting class (No. 43 overall), recorded 49 total tackles, 6.5 tackles for loss and four sacks as a freshman in 2022. The 6-foot-5, 230-pound McCullough started four of the Hoosiers' 12 games, and his 15 defensive pressures ranked seventh among all Big Ten linebackers. He is the son of Notre Dame running backs coach Deland McCullough.
Alabama OL Javion Cohen
Started 25 games over the past two years at left guard, surrendering just one sack on 922 pass-blocking snaps. The 6-foot-4, 305-pound Cohen, a junior who will have two more years of eligibility, opened up about mental health awareness in July, saying, "[I] don't want to focus on the bad though, [I] want to shed light on the good that has come of this."
Vanderbilt's leading rusher Ray Davis
A fourth-year senior, Davis ran for 1,042 yards, which ranked fourth in the SEC in 2022, and his five rushing touchdowns were tied for the team lead. The 5-foot-9, 205-pound Davis spent his first two seasons at Temple before transferring to Vanderbilt prior to the 2021 season. In his career, he has 2,497 rushing yards, 439 receiving yards and 20 total touchdowns (15 rushing, five receiving).
Arizona's leading tackler, Safety Jaxen Turner
He recorded 79 total tackles, two interceptions, two forced fumbles and one sack for the Wildcats in 2022. Turner, a fourth-year junior, has recorded 159 total tackles and defended seven passes in his career.
Former Clemson starting DB Fred Davis II
Davis II started the first four games of the 2022 season and appeared in seven games, totaling 15 tackles and defending two passes before injuring his ankle.
Davis, who is being sued over a 2021 car accident, has recorded 34 total tackles and four passes defensed in 28 games in three seasons at Clemson.
UCF QB Mikey Keene
Keene threw for 2,377 yards, 23 touchdowns and seven interceptions in 15 career games (11 starts) with the Knights. He went 7-3 as a starter last year in place of Dillon Gabriel, but he played behind John Rhys Plumlee for most of the 2022 season. Keene, a 5-foot-11, 180-pound quarterback with three years of eligibility remaining, completed 72.3 percent of his passes this season, throwing for 647 yards, six touchdowns and one interception in four games.
Charlotte's leading WR Elijah Spencer
Spencer led the 49ers with 943 receiving yards and nine touchdowns this season, will enter the transfer portal, according to ESPN's Pete Thamel. His 381-yard, six-touchdown season in 2021 led him to being named Conference USA freshman of the year.
Oklahoma backup QB Nick Evers
Evers was the No. 166 overall recruit in the 2022 class. He flipped from Florida to Oklahoma late in the recruiting process. A 6-foot-3, 186-pound freshman, Evers backed up Dillon Gabriel this season. Oklahoma has five-star QB Jackson Arnold committed for the 2023 class.
BYU OL Campbell Barrington
The younger brother of fellow offensive lineman Clark Barrington was part of ESPN's true freshman All-America team in 2021, primarily played at right tackle. He went from playing 468 total snaps in eight games (six starts) in 2021 to 111 snaps in nine games without a start in 2022. So, seeya.
Oklahoma State's leading tackler Mason Cobb
Cobb led the Cowboys with 96 total tackles and will have two years of eligibility remaining. Cobb, a 6-foot, 230-pound junior, also forced 1 fumble, intercepted 1 pass and recorded 2 sacks in 2022.
FRIDAY, DEC. 2
Texas A&M QB Haynes King
King enters the portal after throwing for 1,220 yards and seven touchdowns for the Aggies in the 2022 season. Signing in 2020, King entered the Texas A&M program as the No. 46 recruit in the nation.
The Aggies (5-7) were 1-5 in games King played in this season.
Texas A&M cornerback Denver Harris
Harris is a former 5-star recruit (No. 25 class of 2022) who played in five games this season for the Aggies before an indefinite suspension ended his season. He has three years of eligibility left.
Three Stanford players (more to come)
Starting Stanford right tackle Myles Hinton joins teammates Drake Nugent and Levani Damuni putting their names in the transfer portal. Hinton was one of Stanford's top recruits in recent years. He was ESPN's No. 14 overall recruit in 2020. Nugent, a center, was on the Rimington Trophy and Outland Trophy watch lists coming into this season and was named All-Pac-12 honorable mention by the coaches in 2021. He started 22 games over the past two seasons. Damuni, a linebacker, was a team captain in 2022. Why the moves? Coach David Shaw resigned earlier this week.
Oklahoma receiver Theo Wease Jr.
Wease Jr had 378 yards and four touchdowns for the Sooners this season. The former 4-star recruit (No. 33 in the 2019 class) had 10 total touchdown receptions over three seasons at Oklahoma. The Sooners went 6-6 in Brent Venables' first year as head coach.
Washington State linebacker Travion Brown
A graduate student. Brown had 49 tackles, five for loss, 1.5 sacks and a fumble recovery for the 7-5 Cougars this season.
Western Michigan DL Braden Fiske
Fiske had 30 tackles and 4.5 sacks this season for the Broncos (5-7, 4-4 MAC). Coach Tim Lester was fired Nov. 28. Several high major schools are expected to show interest in Fiske, who has 12 career sacks.
Top Mississippi State WR Rara Thomas
Two years of eligibility remaining. A 6-foot-2 former three-star recruit from Eufaula, Alabama, Thomas saw his production skyrocket after catching 18 passes and five touchdowns as a freshman in 2021. As a sophomore this season, he led Mississippi State with 626 receiving yards. He ranked second on the team in receiving touchdowns (7) and fourth in receptions (44).
---
Other Recent Stories
Top DT Jalen Hurts pleas no contest, limits legal exposure
Jalen Carter, NFLDraftScout.com's top-rated defensive tackle in the 2023 draft, pleaded no contest Thursday to misdemeanor charges of reckless driving and racing, ...
read the full story
NFL Declares Official free agent, franchise and transition players
The National Football League today (March 15)announced which players are free agents who now can negotiate with all 32 clubs.   Players are either "restricted" ...
read the full story
NFLDraftScout.com Post Combine Top 350 By Position
NFLDraftScout.com top 350 by position, after Indianapolis Combine In our ratings we include all available, verified data from the combine. In the case of the 40-yard ...
read the full story
NFLDraftScout.com Post Combine 350: A change at top for first time
After seeing this year's prospects up close during the Indianapolis Combine, we at NFLDraftScout.com made a few changes to the top 350, starting at the very top. ...
read the full story
Pro Day Tracker
Tracking Pro Days by school by date Top350 (Pos Rnk) Player, College, Pos, Ht, Wt, Class, Proj. Rd,C40ET, e40Time, C10ET, CVJ, CBJ, CBench, ProDayDate 172 (13) ...
read the full story
Latest Player Notes
Ohio State Jack Sawyer
Mar 07, 2023: Where is Jack Sawyer? The former five-star recruit never really took that Year 2 jump some may have anticipated. His raw ... read full note
Colorado Cormani McClain
Mar 07, 2023: Getting two of the best young cornerbacks in the country to come to Boulder was the first step. Now, the Colorado coaches ... read full note
Boise State Ashton Jeanty
Mar 07, 2023: Boise State running back Ashton Jeanty posted a career-high 178 rushing yards in the Broncos' 35-32 win over North Texas ... read full note
LSU Jacobian Guillory
Mar 07, 2023: After joining the defensive line rotation as a redshirt freshman, Jacobian Guillory stayed there last year. He started twice, ... read full note
Clemson Peter Woods
Mar 07, 2023: Monday marked freshman defensive lineman Peter Woods' first career practice as a Tiger. He's easily the most-hyped recruit ... read full note
Brigham Young Kody Epps
Mar 08, 2023: BYU wide receiver Kody Epps isn't your typical sophomore. Thanks to things like the pandemic and a redshirt year, he is already ... read full note
LSU Sage Ryan
Mar 08, 2023: Injuries limited Sage Ryan to four games with two starts as a freshman. Then last year, he became a rotational player who ... read full note
Florida Jason Marshall Jr.
Mar 08, 2023: Florida junior cornerback Jason Marshall Jr. wants to become a more vocal leader on the defense this spring. "There's young ... read full note
Miami Zion Nelson
Mar 08, 2023: Jalen Rivers, who has played mostly guard at UM, again lined up as the first-team left tackle, while Chris Washington was ... read full note
Cincinnati Dee Wiggins
Mar 08, 2023: Louisville transfer Dee Wiggins, a 6-foot-3, 195-pound wide receiver, found several balls Monday. Then again, after transferring ... read full note