Updated data on Stetson Bennett: 5-11, 190, BAC >.08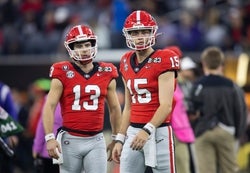 Jan 9, 2023; Inglewood, CA, USA; Georgia Bulldogs quarterback Stetson Bennett IV (13) and Carson Beck (15) against the TCU Horned Frogs during the CFP national championship game at SoFi Stadium. Mandatory Credit: Mark J. Rebilas-USA TODAY Sports
Now we now know why two-time national champion Georgia quarterback Stetson Bennett IV turned down the opportunity to play in the prestigious Senior Bowl this week in Mobile, Ala. He is at Apex Sports in the Dallas-Fort Worth, Texas, area, ostensibly preparing for Indianapolis Combine workouts.
The idea is for a player to hone his skills to maximize results at the Combine, which tests speed, agility, explosion with various events. This could be critical for Bennett who, despite is great success with the Bulldogs, is listed as only 5-11, 190 and doesn't have great arm strength.
Sure enough, even while we wait to see how he performs at Indy (Feb. 27-March 4), Bennett already provided previously unknown data. Early Sunday morning he apparently blew in excess of a .08 BAC (blood alcohol concentration), which may not improve his draft position, but did qualify him for arrest by the Dallas Police.
Bennett was taken into custody at 7:10 a.m. ET on Sunday and charged with misdemeanor public intoxication, according to police. Officers responded to reports of a man banging on doors in Old East Dallas, and upon finding Bennett, took him to a city detention center. Other details of the incident have not yet been released.
"The preliminary investigation found when officers arrived, they located the man, Stetson Bennett, 25, and determined he was intoxicated," said a Dallas Police Department statement. "Bennett was taken into custody, transported to the City Detention Center and charged with Public Intoxication."
Bennett was released about 11 a.m. and a perp walk was documented by local WFAA TV video as he exited the back of the facility covered by a hoodie, carrying a bottle of water and then hopped into a waiting SUV. .
NFL Draft Scout ranks Bennett No. 199 overall, a prospect for the fifth or sixth round. Others have him ranked as high as the third round. Hey, it's a guessing game. Consider Brock Purdy was the last player drafted in 2022 and led the 49ers to seven straight victories before getting injured in a NFC Championship loss to Philadelphia.
Glenn Smith, a former Dallas Cowboys scout, told WFAA television that he believes the arrest will impact Bennett's draft stock.
"He's a 5'10" guy so you're already going to have scouts start knocking him," said Smith. "He's not tall enough, now he's out drinking till the world looks flat, now he's out till 6 in the morning, now all of a sudden things start stacking up against him. Beauty is in the eye on the beholder. Someone will take a shot on this young man."
You betchya.
Cleveland Browns fans can remember all to well that their team took a chance on Texas A&M quarterback Johnny Manziel, whose play on the field earned him a Heisman Trophy (among other awards) as a freshman and his play off the field, well, earned him some infamous publicity. The Browns drafted Johnny Football No. 22 overall in 2014.
Manziel sort of partied his way through four teams in three leagues over eight years. In 2020 he signed with the Zappers of the fan-controlled, indoor American Football League. Last year he served as a player-coach for the Zappers.
We aren't necessarily comparing Bennett to Manziel. Hell, Johnny Football -- a name trademarked in 2013 -- may survive in its own high-level, extended infamy for many years. Manziel continues to live life his own way and contends that his demise as a superstar doesn't bother him. What else can he say?
We doubt Bennett is as cavalier about this recent situation. Unlike Manziel, who was heavily recruited out of high school, Bennett was a two-star prep with one college offer, from Middle Tennessee State. He tried to walk on at Georgia as a 2017 freshman, but didn't take a snap all season. When five-star prep Justin Fields committed to Georgia in 2018, Bennett transferred to Jones County Junior College. In one season there he threw for 16 touchdowns and 1,840 yards.
In 2019 Bennett returned to Georgia and was a backup to Jake Fromm, but did get in the SEC championship game briefly. Bennett began 2020 as a backup to D'Wan Mathis, who himself started only after Jamie Newman opted out of the season. Then USC transfer JT Daniels became the starter. At this point, Bennett's so-called career didn't look like much. But he persevered.
After beginning 2021 as Daniels' backup, Bennett got on the field when Daniels was hurt against UAB and tied the record for most touchdowns in a game by a Georgia quarterback with five. Cutting to the chase, Bennett finally went on to lead Georgia to two consecutive national championships, was MVP in both title games and is a folk legend with Bulldog fans.
Now, along with the running, jumping and agility tests at the combine, Stetson must be prepared for the interviews. Previously he was believed to be a classic, clean-cut, hard-working kid. And that may still be the case, but NFL teams want to know exactly whom they are willing to pay money, sometimes a lot of it.
Not sure if they coach him up for interviews at Apex, but there are several, long-time tutors for that, too. And teams will grill him about this.
Based on what little we know, this is probably no big deal. He is a 25-year old, single, active man who had a couple of drinks and couldn't find his friend's home in Dallas. He wasn't driving a vehicle and there were no reports that he was unruly or resisted arrest.
This is a guy who spent six years in college to overcome Jake Fromm, D'Wan Mathis, Justin Fields, JT Daniels and numerous doubters to become a college legend. Hard to think this Sunday's setback will be little more than a sobering lesson in how easily all that hard work can unravel.