NFL Week 11 Recap: Eagles Hold off Chiefs to Cap Flurry of Close Finishes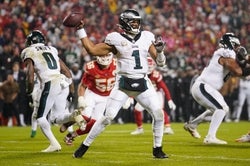 Nov 20, 2023; Kansas City, Missouri, USA; Philadelphia Eagles quarterback Jalen Hurts (1) throws a pass against the Kansas City Chiefs during the second half at GEHA Field at Arrowhead Stadium. Mandatory Credit: Denny Medley-USA TODAY Sports
We noted in our Week 11 preview that some of pro football's best teams needed to be weary of trap games.
But with seven games decided by a single possession, it was NFL fans who ended up ensnared in yet another Sunday of dramatically unpredictable action.
Make that eight games, as Philadelphia rallied from a 10-point halftime deficit in Kansas City on Monday Night Football, getting a small measure of revenge against the defending Super Bowl champs.
From a day chock full of "what if" moments, try this on for size: The Lions head into its traditional Thanksgiving matchup (vs. Green Bay) with a two-game lead over Minnesota in the NFC North. Tweak the outcome of a single play in their respective games Sunday and the Lions and Vikings would be tied for the division lead.
Divisional games made up a good chunk of razor-thin finishes, with four such matchups going down to the final minute. All told, Week 11 delivered a buffet of late-game drama for NFL Red Zone host Scott Hanson, who weaved in and out of games during the frantic "witching hour" with the adroitness of a veteran air traffic controller.

Be sure to ask for Hanson to work your holiday flights. Here is a review of an exciting Week 11.
— Week 11 Recap —
Byes: Falcons, Colts, Patriots, Saints
Philadelphia 21, Kansas City 17 (MNF)
This game was all about fourth-quarter execution. Or, in the case of the defending Super Bowl champs, a lack thereof.
The Philadelphia offense, struggling throughout the game against a nasty Kansas City defense, put together an 80-yard drive to take its first lead of the evening midway through the fourth quarter.
WR DaVonta Smith came up huge, extending the drive with a key 13-yard reception on 3rd-and-five, then hauling in a 41-yard fly pattern from Jalen Hurts to take the ball down to the Kansas City 1-yard line. Hurts scrummed it in on the next play to put Philly up 21-17.
Later, the Chiefs had one final drive to win the game. They missed multiple opportunities to do so.
Kansas City receivers lead the NFL in the drops, and they had three on that final drive alone, none bigger than Marquez Valdes-Scantling's misplay at the goal line of a well-thrown 51-yard bomb from Patrick Mahomes, which would have put Kansas City back up with 90 seconds remaining. It was Valdes-Scantling's sixth drop of a pass over 30 yards in the air this year, most in the NFL.
Two plays later, on 4th-and-25, Chiefs WR Justin Watson, stationed beyond the first-down marker, let a Mahomes pass go through his hands. Taking over on downs, Philadelphia ran out the clock.
For the second straight game, Kansas City's offense failed to score in the second half — and that failure was largely self-inflicted. If Jake from State Farm bundled insurance policies as well as the Chiefs offense does penalties, drops and poor red-zone execution, he would finally land a job within the industry that provides him with some dignity.
Mahomes was not beyond blame in this loss. A Kevin Byard end-zone interception of a fairly awful decision by the QB cost Kansas City at least three points. Travis Kelce committed Kansas City's other red-zone turnover, when, in the fourth quarter, Philadelphia safety Bradley Roby punched the ball out of the tight end's hands inside the Philadelphia 10-yard line.
The latest round of frustrating offensive play betrayed another terrific effort by the Chris Jones-led Chiefs defense. The unit did give up the 80-yard TD drive, but it also held Eagles QB Jalen Hurts to 150 yards passing. Jones record two sacks in a second-quarter stretch when Kansas City sacked Hurts four times in six plays. The secondary held superstar receiver A.J. Brown to only one catch for eight yards.
Smith offset Browns' slow night with six catches for 99 yards receiving, 55 of which came on the game-winning drive. Eagles' running back D'Andre Swift picked up 76 yards rushing. Isiah Pacheco paced Kansas City's ground game with 89 yards on 19 carries.
The end result of this clash of titans is that the Eagles (9-1) stay one game ahead of Detroit for home-field advantage. With the tough loss, the Chiefs (7-3) fall back into a tie with several teams for the AFC's best record.
Lions 31, Bears 26
Detroit quarterback Jared Goff shook off a miserable day to direct two touchdown drives in the final four minutes to help the Lions overcome a 12-point deficit.
The Bears led 26-14 with 4:15 left when the Lions drove 75 yards in 1:16, the march capped off by Goff finding wide receiver Jameson Williams from 32 yards out. Unable to move the ball or take time off the clock, the Bears punted, and Detroit went 73 yards to take the lead with 29 seconds left. Former Chicago RB David Montgomery punched it in from two yards. On the Bears' final possession, Lions DE Aidan Hutchinson knocked the ball free from Bears quarterback Justin Fields for a two-point safety.
For most of the game, the Bears took it to the sleepwalking Lions, whose minds seemed to be more on Black Friday sales than taking care of business against a wobbly divisional opponent. No Lion was ditzier than Goff who threw three INTs on the day and should have had a fourth when Chicago's Jaylon Johnson dropped what would have been a 99-yard pick-six. Despite Goff's holiday generosity, the Bears managed to convert those turnovers into just three points.
Chicago jumped on top early, taking the game's opening kickoff 75 yards for a score when RB D'Onta Foreman scored on a one-yard run. The Bears welcomed back Fields, who missed multiple games with injured thumb. Fields threw for 169 yards and one TD, a 39-yard strike to D.J. Moore, the wideout's first trip to the end zone since his three-TD performance against Washington in October.
Cleveland 13, Pittsburgh 10
Dustin Hopkins kicked a 34-yard field goal as time expired to end a defensive struggle between two struggling offenses. The Steelers' offense was again woeful in the first half — they managed just 65 total yards. Then RB Jaylen Warren outdid that on one run, taking the second play of the second half 74 yards for a game-tying score.
Cleveland started rookie Dorian Thompson-Robinson and managed enough offense to score on its opening drive and then take a 10-0 lead into halftime. Following Warren's long TD run, there was no scoring until midway through the fourth when Pittsburgh marched 62 yards, with some big runs by Warren (who finished with 129 yards), to tie the game 10-10 on a 28-yard field by Chris Boswell.
The Browns' defense, led by Myles Garrett, forced a punt with 1:18 remaining and DTR drove the Cleveland offense down to the 17-yard line to set up Hopkins' game-winner. Garrett, the frontrunner for DPOY, collected two sacks on the day.
It was the Browns' fourth walkoff win of the season. They close to within a game of the Ravens for the top spot in the AFC North.
Houston 21, Arizona 16
The Texans defense thwarted a last-minute drive by the Cardinals to come away with a key win at home. Arizona QB Kyle Murray drove the Cardinals to the Houston 28, but Murray's fourth-down pass was knocked away by safety Steven Nelson to secure the Texans win.
Murray, in his second game back, finished 20-of-30 for 214 yards, and helped the Cardinals off to a fast start, hitting Rondell Moore on a 48-yard TD bomb on Arizona's opening drive. The dual-threat QB also showcased his open-field wizardry with a terrific weaving touchdown on 4th-and-goal from the 1-yard line. The score pulled Arizona to within in a single possession.
The Texans overcame not only Murray's playmaking and a resilient Arizona squad but also three interceptions by quarterback C.J. Stroud. Those mistakes aside, the rookie sensation still made a number of big plays, including a marvelous 41-yard strike to a Tank Dell who made a sprawling catch in the end zone. It was one of eight catches on the day for the rookie Dell, whose 149 yards receiving complemented the 112 yards rushing by RB Devin Singletary. Singletary posted back-to-back 100-yard games for the first time in his career.
Cowboys 33, Panthers 10
In a game closer than the final score suggests, the Cowboys (7-3) scored 14 fourth-quarter points within a matter of seconds to turn away the upset-minded Panthers (1-9).
After the Panthers cut the Dallas lead to one possession early in the quarter, Dallas running back Tony Pollard scored on a punishing 20-yard run and DB DaRon Bland returned a Bryce Young pass 30 yards to put the game out of reach. It was Pollard's first TD since Week 1. It was Bland's fourth pick-six of the season, which ties an NFL record. He has seven games left to stand alone in NFL history.
Before that point eruption, underdog Carolina showed itself intent on making a game of it. The Panthers went on a season-long 17-play touchdown drive, converting three fourth downs along the way, with TE Tommy Tremble doing the honors with a four-yard TD catch.
Other than that flicker of drama, the Cowboys seemed to be in control throughout. Quarterback Dak Prescott posted respectable if unspectacular numbers (189 yards, two TDs). Receiver CeeDee Lamb caught a TD, but his hellacious roll over the last four weeks slowed to a six-catch, 38-yard crawl. Micah Parsons recorded 2.5 sacks and Dallas notched seven total against Bryce Young, whose OL again betrayed him again.
It was the kind of game Dallas needed to win — one in which their stars played OK but made enough plays at key times to control the scoreboard.
Dolphins 20, Las Vegas 13
Another game that went down to the final possession, the Dolphins defense, led by Jalen Ramsey, turned away three fourth-quarter drives in which the Raiders were positioning themselves to take the lead.
On Vegas' final chance, Ramsey made a leaping interception in the end zone of an Aidan O'Connell pass to seal the win. It was the second pick on the day for the star cornerback.
For the second straight game, the Dolphins' heralded offense failed to fully ignite, though it was through no fault of Tyreek Hill. Miami's All-Pro receiver continued his blistering 2023 campaign with 10 catches for 146 yards. His highlight was a 38-yard TD catch and run of a Tua Tagovailoa pass in the first quarter. Tagovailoa passed for 325 yards and two TDs, his second scoring throw going to rookie going to rookie running back De'Von Achane, who returned to the lineup from injury but eventually left the game because of a knee issue.
The Raiders will regret losing a game in which their D contained the explosive Miami offense as well as can be expected and forced three turnovers. O'Connell threw for 271 yards but his three interceptions nullified the three takeaways recorded by the Vegas defense. O'Connell did a throw 46-yard TD to Davante Adams in the second quarter to put the Raiders up 10-7.
With the win, Miami (7-3) maintains a two-game cushion on Buffalo in the AFC East. At 5-6 the Raiders remain mathematically in the chase for a Wild Card berth.
Packers 23, Chargers 20
Green Bay quarterback Jordan Love threw a 24-yard touchdown to Romeo Doubs, which proved to be the difference in a back-and-forth game that saw the Chargers (4-6) once again drawing the short straw.
Los Angeles' final chance to tie or take the lead ended unceremoniously, as Justin Herbert's 4th-and-1 pass from his own 35-yard line with 29 seconds left fell incomplete.
Tied 10-10 at intermission, the game saw four lead changes in the second half. Love, who threw two TDs on the day, threw his first to Christian Watson at the very end of the third quarter to put the Packers ahead. Keenan Allen, who earlier dropped two passes inside the Packers' 5-yard line, redeemed himself with a TD grab midway through the fourth, reclaiming the lead for the Chargers.
Then Love and Doubs put Green Bay (4-6) ahead to stay with 2:33 left.
Love threw for a season-high 322 yards on the day. Rookie wideout Jayden Reed took a reverse in the first half 32 yards for a TD. But the Packers offense suffered a big blow when RB Aaron Jones left the game with a knee injury. (Update: Jones is listed as day to day.)
For the Chargers (4-6), yet another productive passing day for Hebert (260 yards, two TDs) still resulted in a loss. One of his TD throws was a 51-yard catch and run by one of tight end Stone Smartt. In fairness to Herbert, drops killed him. In addition to Allen, rookie WR Quinton Johnson dropped a pass on LA's final drive that would have, at the very least, put the Chargers on the cusp of game-tying field-goal range.
As big a gut punch as the loss is for the Chargers' playoff goals, it is overshadowed by the injury to Pro Bowl defensive end Joey Bosa, who was in obvious emotional distress when carted to the locker room in the first quarter.
(UPDATE: Good news for Bosa and Chargers as the team announced the star player did not suffer an Achilles tear as initially feared. As of Monday, the injury is being designated a severe sprain but more details will be released later today.)
Jaguars 34, Tennessee 14
Quarterback Trevor Lawrence threw two TD passes (both to receiver Calvin Ridley), ran for another and the Jaguars' defense forced two Tennessee turnovers as Jacksonville rebounded from last week's thumping at the hands of San Francisco.
The first of Lawrence's scoring passes to Ridley came early in the first quarter, after a sack on Tennessee rookie QB Will Levis resulted in a turnover. Jacksonville boosted its lead to 13-0 by halftime, then effectively put the game away in the third quarter when Lawrence again found Ridley to make it 20-0.
The lone highlight for the Titans (3-7), was Levis' perfectly thrown 43-yard TD pass, which made the score 27-7. Levis threw for 158 yards but, statistically anyway, enjoyed his best day since his four-TD debut against Atlanta in Week 8. The throw to Hopkins was one of two scoring passes the rookie QB from Kentucky threw against the Jags.
The Jaguars move to 7-3 and strengthen their grip on first place in the AFC South.
New York Giants 31, Washington 19

Six turnovers by the Commanders (4-7) pretty much commanded New York to win a game that dealt a severe blow to Washington's playoff hopes.
The Giants defense forced Washington QB Sam Howell into three interceptions, including a game-clinching pick-six by linebacker Isaiah Simmons in the game's final seconds. The turnovers came early before they came often, as Washington coughed up the ball twice in the first quarter, allowing the Giants (3-8) to build a 14-3 lead midway through the second.
The Giants' offensive line did its best to match Commander incompetence by allowing nine sacks of New York quarterback Tommy DeVito — five in the first quarter alone. It was the first time a defense recorded five sacks in one period since 2006.
As much heat as he took from pass rushes in recent weeks, DeVito also faced a ton from fans and media. But Sunday, the free-agent rookie from Syracuse looked every bit the capable NFL quarterback, throwing three touchdowns and playing error-free football. Two of his scoring throws went to RB Saquon Barkley, who added 83 yards on the ground.
Howell was careless with the football but he produced one very memorable play — a seven-yard pinballing TD run late in the first half that led to a scuffle among Giants and Commanders players near the stands.
San Francisco 27, Tampa Bay 14
The Niners offense scored points on five straight possessions then held off a Bucs mini-rally for the convincing win.
Led by quarterback Brock Purdy, San Francisco scored all its points on possessions spanning the second and third quarters. Purdy enjoyed a sensational day, completing 21-of-25 passes for 333 yards and three touchdowns. For the second week in a row, he found WR Brandon Aiyuk and tight end George Kittle for touchdowns. Aiyuk put up monster yardage (156) on his five catches. His 76-yard touchdown catch at the beginning of the second half was the longest of his and Purdy's career.
A third Purdy touchdown pass went to back Christian McCaffrey, who finished with 103 all-purpose yards.
Quarterback Baker Mayfield and Tampa Bay threatened to make a game of it in the fourth quarter. The Bucs' offense mounted one scoring drive and was poised to make it a one-possession game when it twice moved the ball to inside the San Francisco 12-yard before the Niners' defense rose up. The second threat ended when Ji'Ayir Brown made a diving end-zone interception that deflected off the helment of teammate Dre Greenlaw.
It was Brown's NFL interception, as the rookie safety came into the game to replace Talonoa Hufanga, who left with a knee injury. The 49ers announced Monday that the Pro Bowl defensive back tore an ACL and will miss the rest of the season.
Los Angeles Rams 17, Seattle 16
Our upset special hit pay dirt as the Rams (4-6) rallied from a 13-0 first-half deficit to overtake the Seahawks late. Seattle's Jason Myers missed a 55-yard kick with 1:28 left that would have put the Seahawks back into the lead.
The loss knocks Seattle (6-4) out of a first-place tie in the NFC West with the 49ers who beat Tampa Bay.
Myers, who made his first three field goal attempts, missed the potential game-winner after Geno Smith drove the Seahawks 38 yards to the Rams' 37-yard line. Moments earlier, the Rams took their first lead of the game after going 75 yards to set up a 22-yard go-ahead field goal by Lucas Havrisik. The key play of that drive was a Matthew Stafford-to-Puka Nacua 32-yard pick-up. Stafford was 17-of-31 for 190 yards and one touchdown pass on the day.
His counterpart, Geno Smith (22-of-34, 233 yards) stayed away from the turnovers that tripped up the Seahawks' offense in recent weeks. His lone TD pass went to D.K. Metcalf who caught six passes for 98 yards. But Seattle's running game was once again an issue, generating just 68 yards and that, combined with 12 penalties, kept the 'Hawks from controlling the game and padding their early lead.
Their pattern of playing tight games this season no matter the level of competition makes it hard to tell whether Seattle was looking ahead to its Thanksgiving night showdown at home with San Francisco. In any case, here is hoping the loss does not knock too much of the luster off that much-anticipated matchup.
Buffalo 32, New York Jets 6
The Bills finally played the kind of game Buffalo fans expected when the season started. The Jets' offense — it is meeting expectations of a different sort.
(Update: On Monday, Jefts head coach Robert Saleh confirmed that Tim Boyle will start at quarterback Friday against the Miami Dolphins. Trevor Siemian will serve as Boyle's primary backup and third-year signal-caller Zach Wilson, who took over for Aaron Rodgers 5 offensive snaps into the 2023 season, will shift to the team's No. 3 spot).
The stats tell the story of how lopsided this game was. The Bills more than doubled the Jets in yards, picked up eight more first downs and held a 13-minute advantage in time of possession. The swarming Buffalo D forced four turnovers and chased Zach Wilson from the game. The beleagured signal-caller completed fewer than 50 percent of his passes and threw one INT, but he and his replacment, Tim Boyle, had little protection as the Jets' offensive line allowed six sacks.
Maybe the Jets ran the ball with some success you ask? Nope. Breece Hall managed just 23 yards rushing and the Jets 63 as a team.
Buffalo's running game, on the other hand, put together its second solid week in a row. RB James Cook ran for 73 yards to balance a Bills attack in its first game since last week's axing of former coordinator Ken Dorsey. Josh Allen did throw one interception but, given the prowess of New York's pass defense, the big quarterback otherwise played very well, throwing touchdown passes to three different receivers. WR Khalil Shakir caught one of those TDs, an NFL season-long 81-yard strike, and led the Bills with 115 yards receiving. Kicker Tyler Bass kicked four field goals to lead Buffalo in scoring.
Bills fans hope their favorite team found itself on Sunday. Hard to say. The Jets may be that unfortunate right now. Still, Allen's performance and back-to-back weeks of a solid ground game feel like a start in the right direction.
Denver 21, Minnesota 20
QB Russell Wilson found a leaping Courtland Sutton in the back of the end zone with a minute left, and placekicker Will Lutz made five field goals to give Denver (5-5) a scintillating win on Sunday Night Football.
The Vikings (6-5) had a chance to win it with a field goal on the next possession. But Minnesota advanced no further than its own 36, as the Denver defense forced an intentional grounding penalty on Minnesota quarterback Josh Dobbs before Minnesota turned the ball over on downs.
We discussed Denver's defensive turnaround in recent weeks, and Van Joseph's unit made a statement early in the game as well as late. On the opening drive, Denver DB Kareem Jackson blasted Minnesota quarterback Dobbs on quarterback keeper, forcing a fumble that Denver converted into Lutz' first field goal.
But as he has done repeatedly since assuming the starting quarterback role, "Crazy Legs" Dobbs made a big play with his legs, putting Minnesota up 17-9 with a 10-yard TD run. Lutz kicked his fourth and fifth field goals in the fourth quarter to pull Denver to within two points.
Then a bit of post-Halloween trickery. With over nine minutes remaining, Minnesota faked a punt from its own 31. Running back Ty Chandler picked up 31 yards to convert the 4th-and-4. Chandler would add a 19-yard catch placekicker Greg Joseph finished off the drive with a 30-yard field goal to put the Vikes up 20-16 with just over three minutes left.
Plenty of time for Wilson and Sutton to script their heroics.
Denver, a mess a month ago, evens its record and is very much alive for a postseason appearance. The Vikings, also on life support in early October, saw their five-game win streak snapped. They fall two games behind the Lions for the NFC South lead.
Thursday Night Football: Baltimore 34, Cincinnati 13
On a night where physical mishaps — and rogue drones — seem to threaten at every turn, the Ravens survived injuries to key players, capitalized on a key injury to the Bengals and turned a close game into a convincing win.
For Cincinnati, that one injury likely derailed the 2023 season.
Quarterback Joe Burrow, menaced by a calf issue during the first half of the season, exited midway through the second quarter with an injury to his right wrist, just after putting his team ahead with a touchdown pass.
Burrow's injury apparently happened in the days leading up to the game, as TV cameras caught a brace around his wrist as he stepped off the team bus on Wednesday. Burrow grabbed at his hand on his short TD pass to RB Joe Mixon, then was unable to throw at all on the sideline a few minutes later. At halftime, he was ruled out for the rest of the game.
The Ravens, meanwhile, battled their own injuries. Mark Andrews suffered by a severe ankle injury early in the game after being tackled by Cincinnati's Logan Wilson. Later in the first half the Bengals linebacker landed on Lamar Jackson's ankle along the sideline. The Baltimore QB limped around the rest of night. Ravens fans can be forgiven for thinking Wilson a purple-and-black-seeking drone: Midway through the fourth quarter, WR Odell Beckham Jr., injured his shoulder on a hit by — who else? — Logan Wilson. (In his postgame press conference, Ravens head John Harbaugh did complain about the tackling technique, known as the "hip drop," that Wilson used when bringing both Andrews and Jackson to the turf.)
The latest on Andrews is that an MRI is pending, but concerns are the star tight end suffered a severe ankle injury and is done for the season. No word yet on Beckham, who came into the game with a dinged shoulder, but still recorded team highs with four receptions for 116 yards. His injury occurred at the end of a 51-yard catch and run.
Despite being physically compromised, Jackson threw for 264 yards and two first-half TDs. His first came when a streaking Nelson Agholor plucked a deflected pass out of the air and went 37 yards to paydirt. The Ravens, as expected, leaned on its league-leading running game, rushing for 157 yards against a Bengals front missing starting DE Sam Hubbard.
Good news for Cincinnati is that injured Pro Bowl end Trey Hendrickson did suit up and played well Thursday, recording a sack to give him 9 1/2 on the year.
What was shaping up to be another AFC North battle, Pittsburgh vs. Cincinnati takes a hit with Burrow sidelined for the season. Baltimore has 10 days for Jackson to rest his ankle before taking on the Chargers in Los Angeles on Sunday Night Football.