Thursday Night Football Week 10: Bryce Young and Carolina Wrestle Bears, Tyson Bagent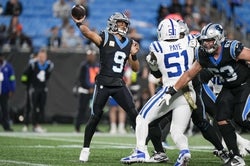 Nov 5, 2023; Charlotte, North Carolina, USA; Carolina Panthers quarterback Bryce Young (9) hopes to have time to pass the ball against a vulnerable Chicago Bears defense: Jim Dedmon-USA TODAY Sports
Carolina (1-7) at Chicago (2-7), Thursday Night Football, Amazon Prime, 8:15 p.m. ET
A clash of two teams going nowhere this season features two rookie quarterbacks, from decidedly different backgrounds, trying to get to the same place.
Bryce Young, Carolina's rookie QB, came into the 2023 season saddled with all the expectations of a player selected No. 1 overall and anointed a franchise quarterback. Chicago's Tyson Bagent is an undrafted rookie free agent who exceeded expectations just by making an NFL roster.
Seemingly groomed from youth for the quarterback position, Young grew up in an affluent, intellectually thriving environment and was provided all the resources needed to maximize his athletic potential. Heavily recruited out of high school, he starred at Alabama and won the Heisman Trophy, aced the controversial S2 test and landed at the top of the 2023 NFL Draft.
Bagent was raised in West Virginia, the son of a world arm-wrestling champ. Not recruited by major college programs, he played at nearby Shepherd University, where he shattered a number of Division II passing records. Bagent went undrafted this past spring, but the Bears signed him as a free agent. He began the 2023 regular season third on the depth chart.
Even though their quarterbacking pedigrees and career trajectories could not be more different, Young and Bagent share the challenge of overcoming current struggles and doubts about their respective places in professional. Young is trying to overcome an up-and-down 2023 season — he threw three picks in his last start against Indianapolis — and longstanding concerns that his size will torpedo his progression.
Bagent wants to show that a Division II quarterback possesses the resiliency and talent to surmount the harsh growing pains — he, too, threw three picks in Week 9 — inflicted by the even steeper learning curve of going from a small college to the NFL.
Ultimately, they share the goal of proving they can lead an NFL team. And Thursday night is an opportunity to make their case in prime time.
With quarterback Justin Fields listed as "doubtful" for Thursday's matchup against Carolina, Bagent starts for Chicago once again — though the rookie had a fourth quarter to forget against the New Orleans Saints last Sunday, as he threw two interceptions and fumbled away Chicago's last opportunity to drive and tie a game they lost, 24-17.
With that late-game meltdown still fresh in the memory banks, the Bears on Thursday will likely lean on their rushing attack, which surprisingly leads the NFC with an average of 135 yards per outing. D'Onta Foreman, a former Panther, and Khalil Hebert lead the way with 287 and 272 yards rushing, respectively.
When the Bagent and the Bears avoid turnovers, they can produce points (20.9 average per game). Chicago is also top ten in the NFL in red-zone offense. Tight end Cole Kmet (five TD catches) grabbed two touchdown passes against the Saints and is proving again to be legitimate if unheralded red-zone threat. What the Bears need to do, starting with the Carolina game, is to rediscover another former Carolina Panther, DJ Moore, who has not caught a touchdown since his three-TD, 230-yard outburst against Washington a few weeks ago (also a TNF contest).
For Carolina, the first half of Bryce Young's first season is almost in the bag, and the bag is a mixed one. Young served up three interceptions against the Colts, including a brutal third-quarter pick six with the Panthers driving. Whether Young is hitting a rookie wall and entering a pattern of mistake-prone play is something to keep an eye on against the Bears.
If Young gets time on Thursday, he will seek out veteran wideout Adam Thielen, whose resurgent 2023 season includes a striking 62 catches for 610 yards. The Bears come in with the league's 28th-ranked pass defense (though hoping that newcomer Montez Sweat bolsters the pass rush), so this week seems is as good as any for Young and the Panthers' passing game to jump to a new level.
But will the Panthers' leaky O-line give Young the time to do so?
If that happens, we like Young to best Bagent and for Carolina to get the road upset. But we got our money on Bagent in any postgame arm-wrestling showdown.