Top CFB Transfers for 2023: 'Canes' Coleman No. 7 Overall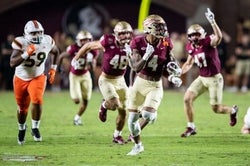 Seminoles wide receiver Keon Coleman sprints down the sideline in FSUs matchup with the Miami Hurricanes
As we get ready for the next blitz of CFB transfers when the window opens in early December, let's take a look at the players who made the most of their school change this season.
Check out NFLDraftScout.com 2024 Player Ratings
Traffic jam expected when transfer portal reopens
1. WR Keon Coleman, Florida State: NDS No. 7 overall; No. 2 WR. For much of FSU's tight game with Miami, Coleman was held in check, but then the blue-chip transfer did what he's done throughout the 2023 season — made a couple of game-changing plays. The Michigan State transfer nearly took a punt to the house, sprinting 57 yards to set up the deciding touchdown, a six-yard reception he hauled in. Coleman, who continues to rise up 2024 NFL Mock Drafts, now has 10 receiving scores, three more than any other wideout in the ACC.
2. WR Malik Washington, Virginia: NDS #PFA overall, rising; No. 50 WR. Washington had his fifth-consecutive 100-yard game, hauling in nine passes for 155 yards and a score in Virginia's close loss to No. 9 Louisville. In a scary play where teammate Perris Jones suffered a serious spinal injury, Washington scooped up Jones' fumble, sprinting 42 yards for a touchdown that gave the Cavs a lead. The Northwestern transfer ranks second nationally in receptions (88) and yards (1,199), both tops in the ACC.
3. WR Adonai "AD" Mitchell, Texas: NDS No. 49 Overall; No. 10 WR. The Georgia transfer recorded his fourth game in a row with a touchdown, reconnecting with Quinn Ewers after the Longhorns' QB missed the last three weeks. In the 29-26 win over TCU, Mitchell had three receptions for 61 yards, catching a short goal line touchdown just before halftime. Mitchell is now tied with Oklahoma's Drake Stoops with nine touchdowns, tops in the Big 12.
4. WR Tez Johnson, Oregon: NDS No. 44 WR for 2025, moving up, maybe to 2024. The Troy transfer is literally sprinting his way into recognition. We projected 4.28-second clocking in 40 yards and he certainly looks that fast on the field. Johnson delivered his best two performances in the last two weeks, torching Cal with 12 catches for 180 yards and two scores. QB Bo Nix's new best friend then caught seven passes for 126 yards and two touchdowns in the win over USC. On the season, Johnson has 53 catches for 725 yards and eight touchdowns — all three figures rank in the top 10 among all Pac-12 wideouts. We had him in 2025 draft, but the little guy might come out in 2024 if he stays healthy.
5. LB Francisco Mauigoa, Miami: NDS No. 21 ILB in 2025 for now. Originally from American Samoa, this Washington State transfer continued to climb up the rankings with a great showing in a Hurricanes loss to Florida State. Mauigoa harassed the Seminoles' offensive line and sacked 'Noles quarterback Jordan Trivis twice for 25 total yards in losses. He added another QB pressure and collected a team-high nine tackles, including 2.5 TFLs. Mauigoa leads Miami in sacks with 6.5 and is tied for first in the ACC with 15 TFLs.
6. ATH Travis Hunter, Colorado: NDS No. 1 CB in 2026 for now. Impressive comeback from Sept.16 lacerated liver. Hunter again played both ways for the Buffs in a 34-31 loss against Arizona. The former five-star transfer from Jackson State was not up to snuff on pass coverage against the Wildcats' talented WR corps, allowing eight catches on 12 targets — including one touchdown. Hunter played 65 snaps on defense with two pass break-ups and one tackle for loss. Offensively, Hunter caught a team-high five passes for 74 yards, including a 47-yard reception — and drew one pass interference penalty.
7. RB Blake Watson, Memphis: NDS No. 365 Overall; No. 23 RB and rising. Watson has been one of the most underrated transfers all season, as the ex-Old Dominion tailback has paced an explosive Tigers offense as both a runner and receiver. In a wild 44-38 win over Charlotte, Watson rushed for 83 yards and two touchdowns and added eight catches for 41 yards and a score. Watson ranks No. 2 in the AAC with 909 rushing yards and leads the conference with 14 total touchdowns and 1,302 yards from scrimmage.
8. QB Shedeur Sanders, Colorado: NDS No. 4 QB in 2025 for now. Difficult to know when Shedeur will enter the draft, with his father, Deion Sanders, unhappy with the lottery system were his son is anything lower than No. 1 overall. Against a solid Arizona defense, Sanders passed for 262 yards and two scores while completing just 59.5 percent of his throws (22-of-37). The Jackson State transfer was plagued by four drops, and he was sacked another three times (now 49 sacks on the season, most among quarterbacks in college football this season). On the year, Sanders ranks No. 4 nationally in yards (3,144) and is tied for fifth in touchdowns (26). He's also thrown just three picks, despite throwing the third-most attempts (420) in the country.
9. QB DJ Uiagalelei, Oregon State: NDS No. 8 QB in 2025 for now. Former five-star Clemson recruit out of SoCal prep football factory St. John Bosco, DJ had a couple rough years with the Tigers, who are now having a tough year without him as he is doing well with the Beavers. In a 62-17 rout over Stanford, Uiagalelei was more efficient than usual, playing just the first half and going 12-of-19 for 240 yards and two scores. He averaged a season-high 12.6 yards per attempt.
He is still completing under 60 percent of his passes this season (58.6), but is averaging 2.4 more yards per attempt than last season, with 26 total touchdowns and only four turnovers — that includes 12 TDs and no turnovers in the last five games. The Beavers are 8-2 with a chance to upset No. 5 Washington this Saturday and play their way into the Pac-12 title race.
10. WR Jamari Thrash, Louisville: NDS No. 32 WR; No. 210 overall. Thrash missed Louisville's blowout over Virginia Tech and still looked slowed by an injury in the win over Virginia, recording a season-low three receptions for 22 yards. He hasn't scored a touchdown in a month, and the Cardinals will need their top playmaker to rediscover his mojo if they hope to upset Florida State in the ACC Championship.
Still, Thrash has been among the most productive transfer receivers, averaging 15.0 yards per reception with 49 catches for 734 yards. His six TDs are tied for No. 3 in the ACC.
OTHERS OF NOTE: WR Devontez Walker, North Carolina; Ray Davis, Kentucky; QB Haynes King, Georgia Tech; DL Antwaun Powell-Ryland, Virginia Tech; LB Nick Jackson, Iowa; QB TJ Finley, Texas State; RB Ismail Mahdi, Texas State; Marshawn Lloyd, USC.
—Includes data from On3 Sports.
By Frank Cooney, NFLDraftScout.com